Tummy Tuck
Offered at our convenient location in Hamburg
Pregnancy, previous surgery, major weight loss, and even genetics can all contribute to the weakening the skin, underlying connective tissue and muscles that hold our stomachs taut. Even after diet and exercise, many men and women struggle to achieve their ideal toned, tight tummy. If you have excess skin or loosened abdominal muscles which makes your stomach protrude, instead of lying flat, an abdominoplasty surgery can improve the appearance of your abdomen with a safe, expertly-performed body-contouring procedure.
Abdominoplasty surgery is designed to remove excess skin and fat from the lower part of the abdomen that developed as a result of weight gain or pregnancy, which causes the skin and underlying muscles to stretch and lose their elasticity.
Therefore tightening of the abdominal wall muscles is often also indicated. The aim is to contour the lower trunk extending from the central abdomen to the flanks resulting in a flattering waistline.
Candidates interested in learning more about how a tummy tuck can give them a toned, slim stomach are invited to call today to schedule their consultation.
Why Choose a Tummy Tuck?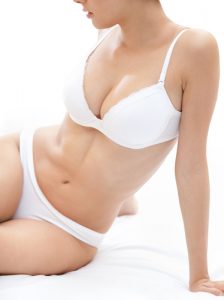 A tummy tuck is an excellent way to transform patient's abdomens into the flat, contoured belly they have been trying to achieve with diet and exercise, but the excess skin, fat, or loosened muscles in their abdomen prevent their stomachs from demonstrating a healthy physique.
In order to perform a tummy tuck, Dr. Dalia Tobbia, board-certified Plastic surgeon, will make an incision in the lower portion of the patient's abdomen, in a location easily concealed within the bikini line. Liposuction may be performed to remove excess and stubborn fat from the stomach area, as well as possibly from the flanks. This will create the most proportionate silhouette, and contoured results possible. Loose skin on the patient's stomach will be excised, and the remaining skin will be pulled taut to create a slimmer abdomen. A tummy tuck is more than cosmetic: the procedure will additionally repair or tighten the stomach's underlying loosened musculature, which increases abdominal wall strength, improves posture and reduces lower back pain in addition to restoring a flat and countered stomach.
When the excess skin is removed from the patient's stomach, it is removed from the incision at the lower abdomen. This step also often removes the area of the patient's skin which is presenting stretch marks, as these most often form due to pregnancy or weight gain in this area of the stomach.
The main recovery period after a tummy tuck will take two to four days.
Patients are advised to take at least two weeks off from work to allow their body to heal adequately. Within the first week, patients will be able to observe and enjoy the slimming and contouring their tummy tuck achieved. Mild physical activity is encouraged after the procedure.
The results of a tummy tuck can be a long-term confidence boost for anyone who feels frustrated by their stubborn stomach bulge. Men and women who are struggling to slim down their stomachs due to excess skin, fat, or a weakened abdominal wall are invited to call Dr. Dalia Tobbia's office today to find out about their candidacy for a tummy tuck.
Candidates
Good candidates for a tummy tuck are those who have:
Lost weight but been unable to lose their last stubborn pockets of fat or baby weight, causing their stomach to protrude, regardless of regular diet and exercise
Loose skin on their stomachs
Compromised abdominal muscles, a common after-effect of pregnancy
An overall healthy lifestyle
Completed the majority of their weight loss and do not plan on future pregnancies
No pre-existing medical conditions which could impede their body's healthy recovery from the tummy tuck
An open mindset toward the results achievable with a body-contouring surgery
Candidates for a tummy tuck are also those who are non-smokers, as this can interfere with the patient's recovery.
Consultation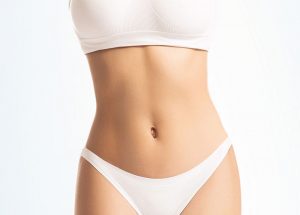 Before you consider undergoing any surgical procedure, a physical examination and consultation will take place with our surgical expert. Because each patient is unique, both physically and with regards to aesthetic desires an individually tailored treatment plan is formulated based on detailed discussions of the most up-to-date surgical options available. Photographs are taken and diagrams used to explain the procedure in a step-by-step manner including limitations and possible risks. The main goal is to provide you with realistic expectations.
The skin incisions and technique chosen depends on individual characteristics such as age, weight, skin quality and fat accumulation in other parts of the abdomen that may require additional liposuction to achieve the desired result. Age, obesity and smoking habits are also considered when evaluating a candidate for this procedure. Patients who are obese or who smoke have a significantly higher risk of wound healing problems.
Before and After Photos
Surgical Method
We employ the most up-to-date concepts in our surgical techniques. Abdominoplasties are performed under general anesthesia. The technique applied is based on individual patient parameters and anatomical characteristics. A gentle curved shaped incision is placed below the hipbone and across the pubic area well hidden beneath the "bikini line." During this surgery, excess skin and fat is removed from the lower abdomen along with tightening of the abdominal wall muscles. In that way, contouring and tightening occurs in two planes: from the inside as a result of muscle tightening and also from the outside as a result of excess skin and fat removal.
The umbilicus is typically repositioned following soft tissue removal. Because the umbilicus is an important element of the tummy tuck extra care is taken to make a beautiful oval-shaped depressed umbilicus – this involves several fine sutures that tether it to the underlying muscle as well as thinning of the surrounding fat to create a nice dip. To achieve a perfect overall result in some cases additional liposuction of the flanks is performed to achieve the most flattering abdominal contour possible.
In some cases with excess skin centered in the lower abdomen in slimmer patients, a "mini-abdominoplasty" may be indicated. This procedure involves a shorter incision with the removal of lower abdominal skin and fat and without repositioning of the umbilicus.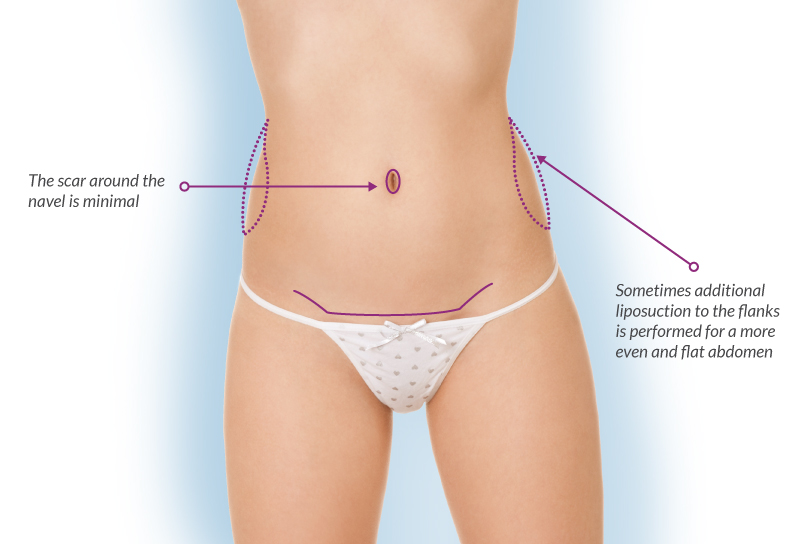 Post Operative Care
Most often patients will have to stay for two nights in the clinic. Usually, 2-3 drains are placed to remove the excess fluid for a period of 2-7 days. The wounds are covered with non-stick dressings and wearing of compression garments is necessary to provide support. All sutures used are absorbable except for sutures around the umbilicus which will be removed about two weeks postoperatively. Mobilization after the surgery is possible and even encouraged. However, strenuous physical activities and heavy lifting should be avoided for several weeks. Patients are usually able to return to work within 2-3 weeks.
It is not uncommon for patients to experience bruising or swelling after their tummy tuck, but these symptoms will subside over a six week period. Dr. Dalia Tobbia can recommend approved pain-relief medications to patients who experience discomfort during their recovery.
This procedure can accomplish outstanding results for patients with loss of skin and muscle tone in the lower abdomen. Yielding a sculpted and aesthetically appealing lower trunk.
Results
Within a week of the recovery, patients will be able to appreciate their slimmer, toned abdomen and contoured silhouette. The results will continue to improve over the following weeks, as the swelling in the area diminishes.
A tummy tuck will achieve a flat, contoured stomach and more proportionate, healthier appearance overall for patients. In order to maintain the results of a tummy tuck, patients are advised to exercise regularly after the recovery period and to practice healthy eating habits. Any major weight gain can interfere with the results achieved by the tummy tuck.
FAQ: Tummy Tuck
How long is the recovery period for a tummy tuck?
Recovery time for an Abdominoplasty is variable depending on the extent of dissection, the tightness of the closure, additional liposuction performed for contouring of the flanks and the need to tighten the underlying Rectus muscles. These factors will all influence post-operative pain, sensation of tightness, and overall recovery time.
However, most patients should be able to resume most activities by 4-6 weeks and should be able to stand straight within a few days.
How long should I abstain from sports after a tummy tuck?
This variable depends on the extent of the Abdominoplasty performed and more importantly whether or not the Rectus muscles are also repaired. It is worthy to note that repair of the abdominal muscles is mostly indicated following multiple pregnancies.
If postoperative healing is uneventful, most sports activities can be resumed within 4-6 weeks. However, if Rectus plication is also performed then it is advisable that patients wait 8 weeks before engaging in sports as tolerated.
Can I expect to have swelling after a tummy tuck procedure?
Some swelling can be expected after a tummy tuck. However this is variable depending on several factors:
The extent of surgery performed
Additional liposuction
Compliance wearing the abdominal compression garment
If you are interested in a slimmer, healthier-looking stomach, you are invited to call Dr. Dalia Tobbia's practice to schedule your private consultation.