Thigh Lift
Offered at our convenient location in Hamburg
Accumulation of fat in the legs in general and particularly in the thighs is troublesome to many female patients. In addition, the effect of aging and gravity can cause the skin on the inside of the thighs particularly to lose its tone causing it to sag. This condition is even more exaggerated by weight loss.
A thigh lift procedure can remove the excess skin to reshape the thigh contour. Frequently a combination of liposuction and a lifting procedure is required to restore the smooth appearance of youthful shapely legs. In some cases where the main problem is excess localized fat deposits in patients who otherwise have good skin quality, liposuction alone without skin removal may be possible to achieve the desired outcome.
Consultation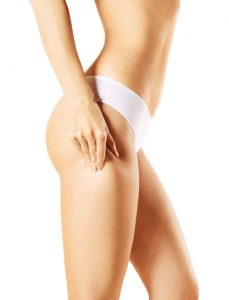 Before you consider undergoing a thighplasty, a physical examination and consultation will take place with our surgical expert. Because each patient is unique, both physically and with regards to aesthetic desires an individually tailored treatment plan is formulated based on detailed discussions of the most up to date surgical options available. Photographs are taken and diagrams used to explain the thigh lift procedure in a step-by-step manner including limitations and possible risks.
The main goal is to provide you with realistic expectations. Surgery is aimed at trimming away and tightening of loose and sagging skin and removing excess fat as needed to restore smooth thigh contours.
Surgical Method
We employ the most up to date concepts in our surgical techniques. This surgery is indicated in patients who have sagging skin lacking in tone with localized fat deposits giving the leg an irregular contour. Thigh lift procedures are performed under general anaesthesia. The technique applied is based on individual patient parameters and anatomical location. Accurate preoperative planning is made to suite each individual patient targeting the area that needs to be addressed. The position and length of scars depends on the amount of tissue that needs to be removed. In some cases it is possible to conceal the scars in the groin if the skin excess is minimal. However, if a significant amount of tissue needs to be removed to achieve a thigh lift this will not be possible and longer scars are the tradeoff to obtain slimmer thighs. Liposuction is used as needed in combination with thigh lifting techniques to give the desired outcome. Meticulous attention to detail is applied to ensure even contours and the best possible aesthetic result.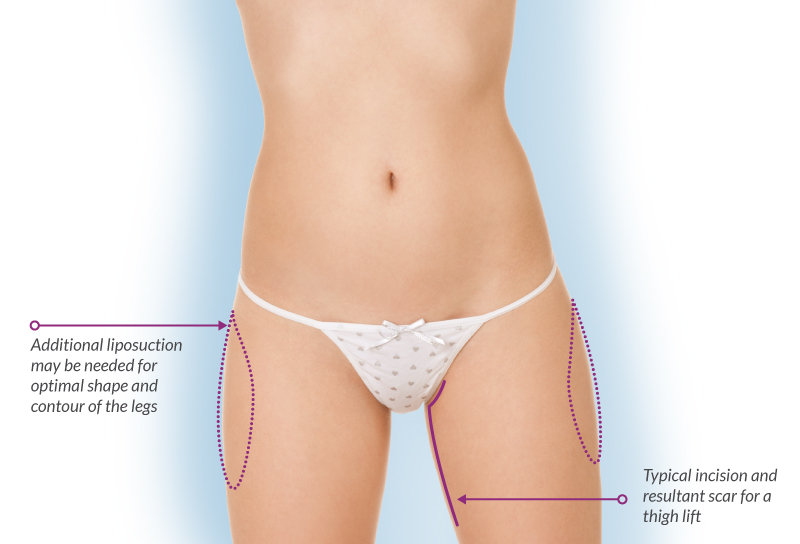 Post Operative Care
Usually 2 drains (one in each thigh) are placed to remove the excess fluid for a period of 2-3 days. The wounds are covered with non-stick dressings and wearing of compression garments is advised to provide support. Most sutures used are absorbable and do not require removal. Mobilization after thigh lift surgery is possible and even encouraged. However strenuous physical activities and heavy lifting should be avoided for a few weeks depending on the extent of the operative procedure.
This procedure can accomplish outstanding results for patients with heavy thighs or those who have lost weight and are left with sagging skin excess yielding sculpted and shapely legs.
FAQ – Thigh Lift
What is the purpose of wearing compression garments after a thigh lift?
Compression garments help to reduce swelling and aid in pushing fluids into the lymph system for removal from the body. The garment will apply uniform pressure over the thigh and holds skin firmly against the body, aiding in proper skin retraction, provides support and helps to shape the overall thigh contour.