Fat Transfer
Offered at our convenient location in Hamburg
A fat transfer (also known as fat grafting) is a cosmetic or reconstructive surgical procedure in which a patient's unwanted fat is removed from one part of their body and injected into another. For instance, a fat transfer might involve removing fat from the waist and injecting it into the breasts or buttocks. Unlike other augmentation techniques that use synthetic implants, fat grafting utilizes the body's own fat tissue – giving the results a soft, natural feel and appearance.
In addition to its use in body contouring, fat grafting is also used to reverse signs of aging in the face by restoring volume and reducing wrinkles. The use of fat transfers in facial recontouring has a very high patient satisfaction rate. In fact, one study showed that 100% of the patients surveyed would undergo the procedure again! (1)
Dr. Dalia Tobbia is a distinguished expert in aesthetic, plastic, and reconstructive surgery who has helped countless patients achieve an improved appearance through her work. Contact us to begin scheduling your personal consultation with Dr. Tobbia. Our Hamburg offices can be reached at +49 (0) 40 46 091 076.
About Fat Transfers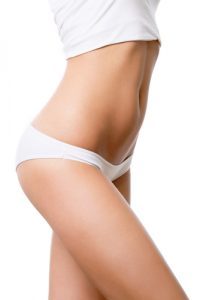 Autologous (from the patient's own body) fat grafting was first utilized in 1893 when a German surgeon named Gustav Neuber used fat taken from the arm to improve the appearance of a scar next to the eye. Fat transfer procedures gained popularity during the first half of the 20th century for aesthetic and reconstructive purposes in the torso, breasts, face, and hands – most frequently to improve the appearance of traumatic injuries of veterans of World War I & II. Technical advances during the 1990s brought fat grafting to the forefront of cosmetic and plastic surgery, and it has been an extremely popular method of aesthetic recontouring ever since.(2) That's not only because fat transfers can be performed more easily and with better results, it's also because we understand more about fat! When fat is removed, the fat cells are accompanied by important growth factors as well as adipose stem cells. These powerful cells have the ability to turn into various other forms of cells needed for healthy tissue. So besides the advantage of a slimmer donor site, patients also have a recipient site that is being revitalized by the placement of essential regenerative properties: all taken from that stubborn belly or thigh fat!(3)
Before and After Photos
Benefits
Fat transfers provide a range of benefits:
Permanently remove unwanted fat
Precisely sculpt targeted areas of the body
Eliminate wrinkles and contour asymmetries
Restore volume loss for a more youthful appearance
Minimal scarring in the donor sites
Most of us have at least one area of our bodies that we wish wasn't quite so plump, and others that might benefit from a little boost. A fat transfer is versatile, and can be customized to meet each patient's needs and compliment their unique anatomy. For example, fat that is taken from the abdomen, thighs, arms, flanks, or buttocks can be removed in a way to sculpt the desired contours. It can then be used to enhance cleavage in the breasts, mask the appearance of veins and tendons on the backs of the hands, accentuate a curvier butt, fill in hollow temples, plump lips, and volumize gaunt cheeks for a subtle lift to sagging lower facial tissues. No matter what your goals are, it's likely that you'll be able to achieve them with the help of an expert surgeon like Dr. Tobbia, and enjoy the many advantages of this procedure.
Candidates
A fat transfer is ideal for patients who want to alter the contours of their body or restore a more youthful appearance to their face. Since the procedure involves harvesting the patient's own fat, the patient must have sufficient amounts of fat. While ideal candidates cannot be too thin, they cannot be too heavy either, and obese patients are ineligible for the procedure. Blood clotting issues or conditions that affect the patient's fat metabolization may impact their eligibility for a fat transfer.
Personal Consultation
Dr. Tobbia meets with each patient individually before any surgical procedure. The personal consultation with Dr. Tobbia will provide you with an opportunity to discuss your health, medical history, and treatment goals. After a physical examination and an assessment of your unique physiology and needs, Dr. Tobbia will be able to recommend the ideal treatment plan for you. Dr. Tobbia offers specialized treatments for breast augmentation by fat transfer, facial fat transfer, and gluteal augmentation by fat transfer (Brazilian butt lift). While fat transfers are an excellent way to accentuate certain areas of the body, those who don't have enough fat to harvest, or who want a more dramatic effect may be better served by synthetic implants. While fat transfers do have some limitations, they are also an excellent way to improve the results of other procedures and can be the perfect finishing touch after procedures like breast augmentation with implants or a facelift. You'll receive an honest opinion and expert guidance during your personal consultation with Dr. Tobbia.
Preparation
Dr. Tobbia will ensure that you have all the necessary information on how to prepare for your procedure. It is important that you cease the use of alcohol and any blood-thinning medications or supplements such as ibuprofen or Vitamin E prior to the procedure since these can lead to bleeding complications. It is also highly recommended that patients discontinue smoking and the use of tobacco products for two weeks prior to the procedure and throughout the recovery process. Smoking impairs the body's ability to heal and significantly increases the chance of complications or infections.
Procedure
Dr. Tobbia performs almost all of her fat transfer procedures under general anesthesia. In rare cases when only a small amount of fat is being transferred, she may opt for a local anesthetic. A fat transfer is a two-stage procedure, performed on the same day. The first stage involves harvesting fat from the donor site using liposuction or a specialized syringe. After this, the fat is prepared for transfer through filtration or centrifugation in order to isolate the clean, healthy fat cells. The prepared fat is then injected into the recipient area with a cannula. Dr. Tobbia will inject small amounts of fat in multiple layers for precise contouring.
Recovery
The details of your recovery will depend on how much fat was transferred, and the areas of the transfer. If liposuction has been performed to harvest the fat, patients can anticipate those recovery symptoms, in addition to discomfort in the recipient area. However, most patients are back to themselves within 1-2 weeks, although they will need to wait several additional weeks before resuming strenuous activity. After the procedure, Dr. Tobbia will cover incisions with plasters and, depending on the type and area of fat transfer, compression garments may be required. There may be mild swelling, bruising, or soreness on the transfer and target area for a few weeks. Light activity such as walking is encouraged to maintain healthy circulation.
Results
Patients may be able to see a significant difference just a few days after the procedure, however, it takes several months for the fat cells to graft to their new location, and for any lingering swelling to dissipate.(4) While the results of a fat transfer are long-lasting, the grafted fat will behave like the rest of the fat in your body, and weight gain and loss can affect your results. A healthy diet and regular exercise are necessary to maintain your weight, and the results of your fat transfer.
Corresponding and Complementary Procedures
The most common way to harvest the volume of fat necessary for transfer is by performing liposuction. Liposuction can also be performed on additional areas of the body to accentuate the results of a fat transfer, and to ensure that the patient has balanced proportions. Dr. Tobbia offers liposuction and fat transfer treatments that can be tailored to meet a patient's goals. Fat transfers are also frequently paired with lift procedures that can tighten the contours of the body and eliminate sagging skin, such as a thigh lift or a buttock lift. Adding targeted volume to these areas with a fat transfer after a lift ensures that results are smooth and that the treated areas are beautifully sculpted. To find out about other procedures that can be administered in addition to a fat transfer.
How Much Does a Fat Transfer Cost in Hamburg, Germany?
The exact cost of a fat transfer will vary depending on the area and extent of your treatment. Dr. Tobbia and her staff will be able to give you an estimate for the procedure after your personal consultation. Contact her Klostenstern clinic by calling +49 (0) 40 46 091 076, or filling out this online form at your convenience.
FAQ
What is the difference between a fat transfer and liposuction? 
A fat transfer removes fat from one area of the body and grafts it onto another area of the body, whereas liposuction only removes unwanted fat. Liposuction is often used to harvest the fat needed for a fat transfer.
What is the difference between a fat transfer and a Brazilian butt lift? 
A Brazilian butt lift is a specific type of fat transfer in which harvested fat is grafted onto the buttocks. A fat transfer can also be performed on other parts of the body, and other popular locations for graft placement include the breasts and face.
How long does grafted fat last? 
Fat grafts can last many years. However, because it is natural, living fat tissue, it will respond to weight fluctuations and the normal aging process, both of which can alter the appearance of your results. 
References