Thread Lifts
Offered at our convenient location in Hamburg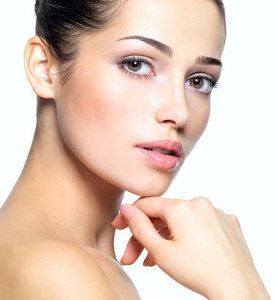 Fight facial aging without surgeries or scars, with Thread Lift. Thread Lifts achieves the impressive results of a face lift, without a single incision! Every thread lift is highly customized, as there are several thread sizes, shapes and functions to choose from. The procedure requires minimal downtime and fits conveniently with a busy schedule.
Over time, the skin on our faces begins to sag. Wrinkles, jowls, and hanging skin develop. The brow and facial features can begin to droop. You can tighten and lift this skin and restore your youthful contours with only a few, well-placed injections.
Ready to revive your appearance? Schedule a private Thread Lift consultation with Dr. Dalia Tobbia to learn more today!
What is a Thread Lift?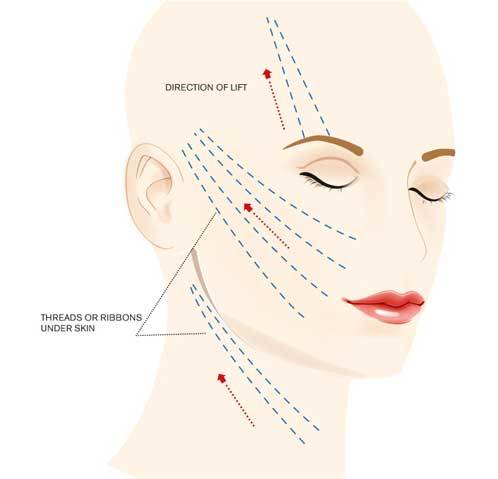 Do you wish you could lift your loose skin back into place? Thanks to Thread Lifting, you can! A thread lift is a minimally-invasive facial rejuvenation procedure. Thread lift's impressive results have earned it the nickname the "non-surgical face lift." Thread lift is also considered a "soft lift" because it successfully remodels the soft tissues of the face or body.
Thread lifts are performed using a medical-grade blunt cannula that is mounted with absorbable sutures or "threads." Thread Lifts have the impressive ability to correct jowls, wrinkles, sagging brows, and loose neck skin. Thread lifts are highly versatile and can be applied to tighten almost any part of your facial contours.
The threads are available in different sizes and shapes for use in different parts of the face and help lift the skin to the desired position.
In order to perform a thread lift, Dr. Dalia Tobbia inserts "threads" the sutures into targeted areas of the face. These thin threads are specially designed with tiny spikes that help to lift and secure the skin and soft tissues into a more youthful position. These threads can support around 20 Kilos, but still they are superfine and not visible through the skin. The lifting results will be visible immediately during your session.
The Lifting effect with these threads is impressive and looks natural. Your body will gradually absorb the threads in six to eight weeks. However, the results of the newly lifted skin last's up to two years. No one will be able to tell why you look so young and refreshed!
These biocompatible threads have also been shown to stimulate collagen in the treated area. Some doctors even refer to them as "collagen threads." If you want optimum results with minimum scars or downtime, thread lifts are an ideal option!
Benefits of a Thread Lift
Men and women love their natural results with Thread Lifting! Thread Lift is a popular anti-aging solution because it:
Delivers the results of facelift, without surgery or long downtime
A more natural looking face lift compared with surgery
Eliminates jowls
Tightens loose neck skin
Corrects loose or drooping skin on the midface
Lifts and tightens the brow
Adds youthful volume
Reduces wrinkles
Slows down future aging
Is a quick, comfortable procedure
Treatment is FDA-approved and completely safe
Can be customized to your unique face and goals
Leaves no scarring
Results last for years
Candidates
You are a good thread lift candidate if you have jowls, sagging skin, a hanging neck, a "double" chin, a drooping brow. Thread lift is an excellent option for men and women with busy schedules who want to correct their facial aging but do not want to take the time off required for a surgical rejuvenation method, like a face lift.
You will see your best results from thread lifting if you are a non-smoker who is in overall good health. Candidates who are dedicated to maintaining a healthy lifestyle will see beautiful, long-lasting improvement from their thread lifting.
If you are interested in a thread face lift, a forehead thread lift, or a neck face lift we invite you to schedule a private consultation with Dr. Dalia Tobbia today.
Consultation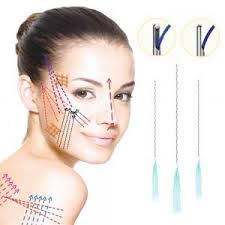 Dr. Dalia Tobbia has expert knowledge of the deep and superficial structures of the face. During your private consultation, she will discuss the benefits of thread lifting with you and answer any questions you may have about the procedure. She will assess your facial structures and current level of skin laxity. Once Dr. Dalia Tobbia has a good understanding of the outcomes you are looking for, she will walk you through the steps of a personalized thread lift treatment plan. Dr. Dalia Tobbia will take your health history, as well as current medication and supplement use, into consideration. This will help her tailor your treatment to you and your health profile.
Thread lifting is a highly versatile anti-aging rejuvenation method; Dr. Dalia Tobbia will take time and care to create a thread lift treatment that targets your unique needs. She will lift your skin with threads of a size and shape that is customized to achieve your desired effect, and help restore smooth contours, and a more natural youthful appearance.
We want you to feel well-informed before moving forward with any cosmetic treatments. Write down your questions and bring them with you to your consultation. This will make sure we answer every single one! If you have any questions after your consultation, we invite you to reach out to us.
Where Can I Receive a Thread Lift?
Thread lifting can elevate the skin and restore youthful contours to both the face and body. Thread lifting can be performed to improve the appearance of the:
Brow
Cheeks
Jowls
Nasolabial Folds
Lips
Chin
Neck
Knees
Stomach
If your skin looks puffy, loose, or aged, revive it with a customized, minimally-invasive thread lift.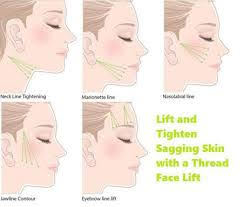 A thread lift is performed in thirty minutes or less. When you first arrive for your procedure, you will be greeted by Dr. Dalia Tobbia and her staff. When you are resting comfortably, your skin will be cleansed. A numbing topical cream will be applied and given time to take effect. Once the skin is numbed, Dr. Dalia Tobbia will begin injecting the required threads to lift and secure your skin into your desired tight contour. The number, type and pattern of threads used to perform your thread lift will depend on your personal preference and Dr. Dalia Tobbia's professional recommendation.
This is a quick and easy in-office procedure that can even be performed during your break from work. You will have minimal or no bruising and can return to your normal activities within 24 hours.
Recovery
You will receive customized recovery instructions following a thread lift. Minor bruising and swelling are uncommon following thread lift but if present should completely heal within one or two days at most. Minor swelling and discomfort can be controlled with intermittent ice application and approved non-steroidal anti-inflammatory medication. Do not touch your treated area and keep exaggerated facial expressions like smiling and frowning to a minimum for the first few days of recovery.
You will be able to return to work immediately. No one will be able to detect the threads: they will just know that you look healthier and well-rested!
Your skin will adjust to and accept its new, tighter position over the weeks following your thread lift session. The threads will stimulate collagen production in the surrounding tissue and this is what helps to maintain the long-lasting effects. Your new, collagen-rich skin will add youthful volume to your appearance. The collagen will fill your skin to erase fine lines and improve the firm texture of your skin. The added volume will also help support the skin in its new, higher position.
Thread Lift Results
Thread Lift will lift and smooth away your lax, wrinkled, sagging skin. Immediately after your thread lift, your skin will look tighter and more volumized. You will look refreshed and more youthful.
Your body will absorb your threads within six to eight weeks. The added collagen from the treatment will support and extend the life of the new skin position. Your new, lifted contours will last for up to two years!
FAQs
Common questions we receive from our thread lift candidates include:
What is a PDO thread lift?
A PDO thread lift uses Polydioxanone threads, a biocompatible material commonly used in vascular surgeries over the past 30 years. PDO threads are available in different textures in order to guarantee they achieve the desired effect in the appropriate area. PDO threads can be smooth, twisted, or barbed. PDO threads lift and secure the skin into a more youthful position. They have also shown to be a "biostimulant" that will dramatically improve collagen production in the skin. The threads are absorbed within six to eight weeks. Results will last for two years.
Another popular form of thread lift is the Happy Lift, which uses absorbable threads made of poly-L-lactic acid and caprolactone, p (LA-CL) to secure the skin in a younger, lifted position.
What is the best non-surgical facelift?
Injectables can be good for targeted rejuvenation to areas of volume loss in the face and for the treatment of early signs of aging, and threads help to lift sagging areas of the skin that cannot be improved with fillers. Ideally, a combination of fillers and lifting sutures can be used to rejuvenate different parts of the face. Thread lifts are a good option for people with more advanced facial aging who still have a moderate degree of skin laxity but are not yet interested in having a surgical facelift. Thread lift is known as a non-surgical facelift for a reason!
Is a thread lift permanent?
A thread lift is not permanent. If at any time a thread needs to be removed before the body absorbs it, Dr. Dalia Tobbia can do so safely and easily. The threads will add collagen to the skin and achieve a more youthful skin position that lasts up to two years.
How much does thread lift cost?
The price of your thread lift will depend on the details of your unique thread lift treatment plan. You will receive a customized cost breakdown once the treatment area, type of thread, and number of threads have been determined.
How many years does a thread lift last?
Thread lift results last up to two years. Patients can discuss the best way to extend the results of their thread lift with Dr. Dalia Tobbia.