Buttock Lift
Offered at our convenient location in Hamburg
Much of body contouring tends to focus on the front of the body. However in more recent times the perfect contour in the buttock area has become increasingly popular. The effects of aging or weight loss can leave the buttock area flattened and sagging limply.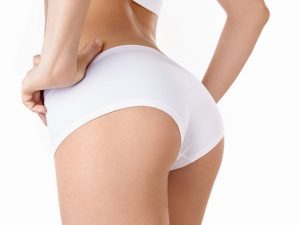 A buttock lift can remove the disfiguring excessive skin by lifting, tightening and re-shaping the contours. Thereby restoring the buttocks to a more rounded form. Additional liposuction can be used when needed to remove excess bulging areas of fat to create an even more aesthetic pleasing contour. Fat grafting can be performed during the same operation to augment flattened areas and to gain more projection and a round shape.
Consultation
Before you consider undergoing any surgical procedure, a physical examination and consultation will take place with our surgical expert. Because each patient is unique, both physically and with regards to aesthetic desires an individually tailored treatment plan is formulated based on detailed discussions of the most up to date surgical options available. Photographs are taken and diagrams used to explain the procedure in a step-by-step manner including limitations and possible risks.
The main goal is to provide you with realistic expectations. Surgery is aimed at trimming away and tightening of loose sagging skin, lifting up of sagging buttocks, removing of excess fat where it exists and/or re-sculpting an ideal buttock form, possibly including fat grafting.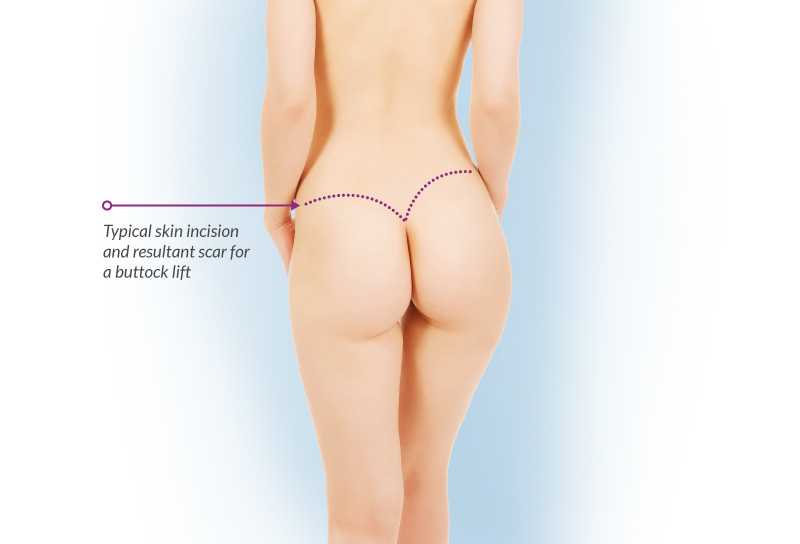 Surgical Method
We employ the most up to date concepts in our surgical techniques. This surgery is indicated in patients who have flattened and sagging appearing buttocks with or without irregularly localized fat.
Contouring procedures are performed under general anesthesia. The technique applied is based on individual patient parameters and anatomical location. Accurate preoperative planning is made to suite each individual patient targeting the area that needs to be addressed. The incision to lift the buttocks is discreetly made as low as possible so that the resultant scar can be easily concealed with panties or a bikini, through this excess skin can be removed and the buttocks can be lifted to a higher more natural and youthful position.
Liposuction is often used in combination with a buttock lift to remove fat excess and to reshape the contour of the flanks and the lower back to give an overall perfect contour. In lean patients the main problem can be merely flattened appearing buttocks without any saggy skin excess. In such cases fat transfer alone can be employed to re-shape the buttock area and to create an elevated more curvaceous buttock contour.
Meticulous attention to detail is applied to ensure even contours and the best possible aesthetic result.
Post Operative Care
Usually 1-2 drains are placed to remove the excess fluid for a period of 1-3 days. The wounds are covered with non-stick dressings and wearing of compression garments is advised to provide support. Most sutures used are absorbable and do not require removal. Mobilization after the surgery is possible and even encouraged. However strenuous physical activities and heavy lifting should be avoided for several weeks. Patients are usually able to return to work within 2-3 weeks depending on the extent of the procedure performed.
This surgery can accomplish outstanding results for patients with a flattened or droopy appearing buttock region. Yielding a sculpted and aesthetically appealing buttock contour.