Lip Augmentation
Offered at our convenient location in Hamburg
Lips can be used to restore or optimize the shape and volume of the lips. The lips are the focus of the face. Facial expressions and aging processes can impair the appearance.
Small wrinkles form over the years around the lips and the lip red becomes narrower. By injecting the lips they become fuller again and wrinkles can be relined, resulting in a younger and fresher appearance.
Advice and Treatment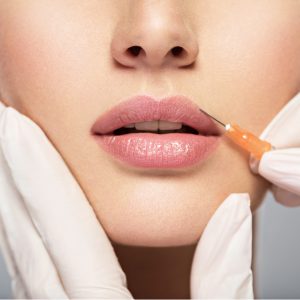 Before an injection of the lips is carried out, a physical consultation and examination takes place. Suitable candidates are young patients who desire fuller lips or patients who wish to counteract the aging process, including radial wrinkles around the mouth.
Photographs are taken before and after the injection, the anatomical conditions are analyzed in detail, and then a detailed treatment plan is drawn up.
Before & After Photos
Lip Injection Methods
Hyaluronic Acid
The result of hyaluronic acid injection is immediately visible and lasts for several months. Gradually, the hyaluronic acid breaks down, but can be refreshed at any time by re-injection.
Autologous Fat Transfer
Fat is sucked away from body areas with excess fat and then injected into the lips after appropriate work-up to increase their volume. The procedure is performed under local anesthesia and can be controlled very precisely. Since fat transfer is permanent, it usually does not need to be repeated.