Face Lift
Offered at our convenient location in Hamburg
A facelift is a surgical procedure that rejuvenates the visible signs of aging in the face and neck by removing the excess skin and tightening the deep facial tissues. This also corrects the jowls and restores the cheekbones to their more youthful prominence.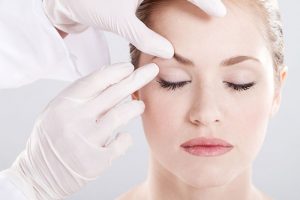 Because parts of the face are affected to a variable degree in each patient, typically the whole face is assessed prior to creating an individualized face lift treatment plan for each case. In order to accomplish the most optimal aesthetic outcome, a facelift is often combined with other procedures such as a necklift, a blepharoplasty or a fat transfer to the face.
Consultation
Before you consider undergoing a face lift procedure, a physical examination and consultation will take place with our surgical expert. Because each patient is unique, both physically and with regards to aesthetic desires an individually tailored treatment plan is formulated based on detailed discussions of the most up to date surgical options available. Photographs are taken and diagrams used to explain the procedure in a step-by-step manner including limitations and possible risks. The main goal is to provide you with realistic expectations.
Depending on the anatomical structures most affected by the facial aging process, additional procedures may be indicated to give the best outcome. These include; neck lifting procedure, upper and lower eyelid lift, forehead lift and additional fat grafting to fill any areas of volume loss as a result of aging. Facelifting surgery is aimed at giving the aged face a naturally refreshed look by restoring a youthful position of the facial structures that is neither "fake" nor overdone.
Surgical Method
We employ the most up to date concepts in our surgical techniques. A face lift is performed under general anaesthesia. The technique applied is based on individual patient parameters and effect on anatomical structures as a result of aging.
Accurate preoperative planning is made to suit each individual patient targeting the area that needs to be addressed. Incisions are made hidden inside the hairline at the temple, in front of the ear, then around the earlobe and behind the ear. The deeper facial structures under the skin known as the "SMAS" are gently pulled to restore their more youthful position. The skin is draped back and in place and excess skin is removed. In some cases fat deposits are removed from the neck area. This fat can then be used to restore volume to some parts of the face as needed. Meticulous attention to detail is applied to ensure even contours and the best possible aesthetic result with minimal scarring.
Post Operative Care
Usually two tiny drains are placed to remove the excess fluid output for a period of 1-2 days. The wounds are covered with non-stick dressings. Stitches are usually removed within 7 days. Swelling, bruising and a sensation of tightening may be present for a few weeks. Patients are advised to avoid sun exposure for the first months after surgery. The healing process differs depending on the extent of the exact procedure performed.
After complete recovery from facelift surgery, most patients are pleased about appearing more refreshed and vibrant.
FAQ: Facelift
Is a thread lift an alternative to a facelift?
A thread lift is a minimal-invasive procedure that can be performed in the doctors office under local anesthesia. There is basically no scarring and minimal pain. The results are immediately apparent, but are not as effective or long-lasting as a traditional facelift. Meanwhile, a facelift is typically recommended for patients with pronounced sagging and aging of the facial skin. Facelift surgery will tighten the skin through incisions strategically placed around the face, and will give excellent results that can easily last up to 10 years.