Facelift
Offered at our convenient location in Hamburg
Your face is a miracle. It conveys complex emotions with the most subtle of movements. But as your skin ages, it accumulates wrinkles and loses elasticity. The expression on your face no longer responds as quickly to the feelings behind them. Your appearance becomes more and more obscured by the hands of time.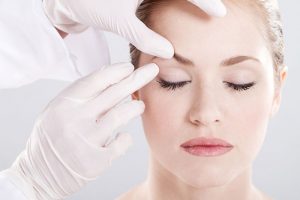 A facelift can reverse this trend. By giving your skin a taut and firm dynamic, a facelift can empower you to recapture your zest for life. Smile, frown, and wink with vibrant intention! Dr. Dalia Tobbia is an accomplished surgeon and caregiver. Her artistry can deliver amazing results! To schedule a consultation with Dr. Dalia Tobbia at her Hamburg location, please contact us.
What Is a Rhytidectomy?
A rhytidectomy (facelift) is a surgical procedure that rejuvenates your appearance.[1] A rhytidectomy erases visible signs of aging in the face and neck by removing excess skin. Facelifts also tighten deep facial tissues, restoring youth and luster. This procedure corrects the jowls and raises the cheekbones to their proper prominence and glory.
Because various parts of the face develop differently in each patient, your whole face must be assessed. Dr. Dalia Tobbia will study your structure and get to know your unique facial contours. From there, the doctor will propose an individualized facelift treatment plan tailored to you.
Benefits of Facelift Surgery
A facelift surgery is designed to give an aging face a naturally refreshed look by restoring its youthful position. The facial structures should never look "fake" or overdone. Some of the many benefits of rhytidectomy include:
Lifting and smoothing the appearance of your cheeks
Removing and tightening the skin along your jowls to give your lower jawline a chiseled, confident look
Reducing the severity of your nasolabial folds – these are the lines that etch their way from the sides of your nose to the corners of your mouth
If your procedure includes a neck lift, then you may also benefit from the eradication of your "neck wattle" and double chin
In addition to the physical benefits listed above, you may also experience a psychological and/or emotional boost from a facelift. When you project your confidence to the world, the world responds in kind. Put insecurities in the past with a visit to Dr. Dalia Tobbia in the very near future!
Facelift Candidates
When you look in the mirror, you should love the face staring back at you. The only person who can convince you to get a facelift is you. No one else should influence your decision. Your mirror reflection is the first and last opinion that matters.
Take a good, long look at your face. Does it reflect who you are and where you are going? If you have realistic expectations for facelift surgery, then Dr. Dalia Tobbia can help bring them to life.
Eligible patients should not smoke, since tobacco products are harmful to the skin. We want your best features to shine through! Ideal candidates should be in good health and have the ability to take time off work to heal properly. To determine if a facelift is right for you, please contact Dr. Dalia Tobbia and her knowledgeable staff.
Personal Consultation in Hamburg, Germany
The consultation period is an opportunity to learn from one another. First, we want to get to know you. Our surgical expert will conduct a physical examination to assess your viability for rhytidectomy. We will discuss your aesthetic goals and create a strategy using the most up-to-date surgical options available.
Next, it is your chance to ask us questions. How can we tailor a treatment plan to your cosmetic desires and medical history? Feel free to bring in photographs from your past. We can take current pictures and compare the two. Together, we will discuss how to celebrate your best features without radically changing your appearance. You are already beautiful – we just want to highlight your radiance.
As we determine the best surgical plan for you, we will explain the procedure in a step-by-step manner. We want you to understand any possible risks involved and describe the limitations of facelift surgery. The main goal is to provide you with realistic expectations so we can achieve remarkable results!
Preparation
To stay connected to Dr. Dalia Tobbia throughout the preparation period, feel free to visit our blog or call +49 (0) 40 46 091 076 with any questions that may arise.
During your consultation appointment, one of our trained medical professionals will provide you with detailed instructions on how to prepare for facelift surgery. Your directions will be customized according to your anatomy, goals, and general health. You may be advised to use certain skincare products in the weeks leading up to your procedure.
Please stop taking aspirin, ibuprofen, and other blood-thinning supplements. We want to promote optimal circulation to facilitate your rapid recovery. You should arrange for transportation to and from the surgery, so ask a loved one to help.
Procedure
Once you arrive on the day of your surgery, we want you to be comfortable. A facelift is performed under general anesthesia. Aging affects everyone's anatomical structures differently, so each surgery is unique. Regardless of the specific nature of your procedure, we employ the most up to date concepts in our surgical techniques.
Dr. Dalia Tobbia insists on accurate preoperative planning from everyone involved in your surgery. Our team will know exactly how to meet your needs and address your concerns.
Under Dr. Dalia Tobbia's esteemed leadership, the surgical staff will replenish your look, step by careful step. Incisions are hidden inside the hairline at the temple, in front of the ear, around the earlobe and behind the ear. The deeper facial structures under the skin known as the SMAS (superficial musculoaponeurotic system) are gently pulled back to restore their more youthful orientation.[2] The skin is draped back into position and excess skin is removed. In some cases, fat deposits are removed from the neck area. This fat can then be used to restore volume to some parts of the face, as needed. Dr. Dalia Tobbia pays meticulous attention to detail, ensuring even contours and the best possible aesthetic results with minimal scarring. Once any unwanted fat and/or skin is removed, the doctor will gently and skillfully close all incisions.
Dr. Dalia Tobbia has the hands of a surgeon and the soul of an artist. She will focus her expertise on your unique facial contours to capture the profile of your dreams.
Recovery
The doctor typically places two tiny drains along the surgical sites to handle excess fluid output for a period of 1-2 days. The incisions are covered with non-stick dressings. Stitches are usually removed within 7 days. Patients may experience swelling, bruising, and a slight tightening sensation for a few weeks. The doctor advises facelift patients to avoid sun exposure for the first two or three months after surgery. The healing process varies depending on the extent of the exact procedure performed. Please listen to your attentive medical team and follow their instructions closely.
Amazing Results
To get a glimpse of how Dr. Dalia Tobbia can transform your look and your life, please visit our reviews page. We hope our next satisfied patient will be you!
After their recovery from facelift surgery, most patients are thrilled with their refreshed, vibrant appearance. The results of a facelift procedure are long-lasting because they showcase your own natural features. If your weight fluctuates, however, it can have an impact on the appearance of your face, post-op.
Complementary Procedures
In order to accomplish the most optimal aesthetic outcome, a facelift is often combined with other procedures. Depending on the facial structures most affected by the aging process, patients may want a combination of treatments to get the best outcome. These include a neck lift, upper and lower eyelid lift, a brow lift, and additional fat grafting to add volume to your features. Dr. Dalia Tobbia takes a holistic approach to your appearance to help you fend off the effects of aging.
Cost of a Facelift in Hamburg
Your appearance is special, so it demands a specialized approach. Your cosmetic procedure will be designed to fit your lifestyle, your look, and your budget. To discuss the cost of a facelift in Hamburg, Germany, please call +49 (0) 40 46 091 076 to speak with one of our helpful staff members.
FAQ
Is a thread lift an alternative to a facelift?
A thread lift is a minimally-invasive procedure that can be performed in the doctor's office under local anesthesia. There is basically no scarring and minimal pain. The results are immediately apparent, but are not as effective or long-lasting as a traditional facelift. Meanwhile, a facelift is typically recommended for patients with pronounced sagging and aging of the facial skin. Facelift surgery will tighten the skin through incisions strategically placed around the face, and will give excellent results that can easily last up to 10 years.
Is facelift surgery safe?
In the strong, skilled hands of Dr. Dalia Tobbia, a facelift procedure is safe and stunning. Dr. Dalia Tobbia uses the appropriate anesthesia to provide comfort throughout each procedure. Her dedication and precision will deliver the results you want. To learn more, please contact our office. 
References
Hamra, ST. (1992). Composite rhytidectomy. Plastic and Reconstructive Surgery. 90(1):1-13. DOI: 10.1097/00006534-199207000-00001.
Whitney ZB, Zito PM. (2018). Anatomy, Skin, Superficial Musculoaponeurotic System (SMAS) Fascia. Treasure Island (FL): StatPearls Publishing. Retrieved from: https://www.ncbi.nlm.nih.gov/books/NBK519014/