Breast Surgery
Offered at our convenient location in Hamburg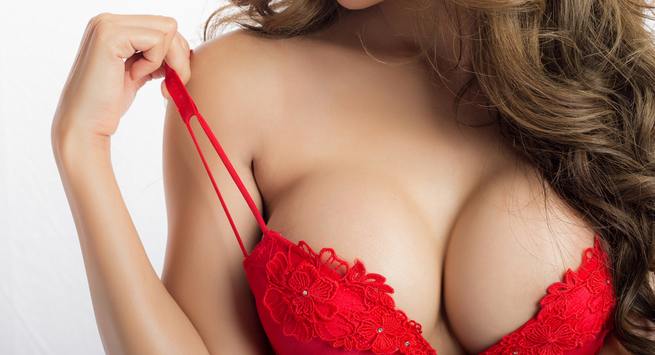 Breast surgery can change the breasts' size, shape, and projection. While the perfect décolletage depends entirely on a woman's personal preferences, it's a part of being female that she deserves to enjoy! Unfortunately, genes, childbirth, or weight loss may prevent this from happening. Thankfully, there are a variety of breast surgery procedures that allow patients to choose how they alter the dimensions of their chest. Whether patients are looking to enhance, decrease, or modify the shape of their breasts, there are commonly performed procedures that can help them achieve an aesthetic that suits their lifestyle. Dr Dalia Tobbia is dedicated to enhancing women's natural beauty using state-of-the-art techniques at her Hamburg clinic. If you've been considering breast surgery, start the process by scheduling a meeting with Dr Dalia online or calling +49 (0) 40 46 091 076 to learn more.
Our Breast Surgery Procedures
Breast Enlargement
A breast enlargement increases the size of breasts that have lost volume caused by ageing, weight loss, or pregnancy. For other women, an augmentation can help them achieve the bustline that they've always dreamed of. Depending on the effect desired, patients can enlarge their breasts by: [1]
Fat Transfer: Uses a patient's own fat from strategic donor sites on their body.
Implants: Uses saline or silicone synthetic implants.
Breast Augmentation with Lift: Removes lax breast tissue, reshapes breasts, increases volume with fat transfer or implants, and positions breasts higher on the chest. [2]
Breast Lift
A breast lift corrects lax breast tissue and ptosis, or sagging, that can occur at various stages in a woman's life. Depending on the extent of the ptosis, the incisions and procedure used will vary. Excess skin is carefully removed via strategic incisions allowing for the breast mounds to be firmed, reshaped and lifted higher on the chest. [2] The areolas can also be modified, and raised to a perky, more youthful position on the breast mound.
Breast Reconstruction
The decision to have reconstruction surgery is a deeply personal choice. Following a cancer diagnosis, patients are ready to enter a new chapter in their life. Dr Tobbia offers various methods to construct natural breast contours and restore a feminine profile. The procedure can utilise autologous reconstruction (patient's tissue), or implants.
Autologous Reconstruction: Microsurgical methods such as DIEP, SIEA, and PAP are used to reconstruct the breast. Depending on your condition, these techniques use a patient's body tissue, and spare underlying muscles, while sculpting a new breast out of healthy, live tissue.
Implants: Implants serve as an alternative for those who are not eligible for Autologous Reconstruction because of health reasons. A silicone or saline implant can be placed, and if necessary, a breast expander that gradually increases in size can create a new breast cavity for the implant.
Breast Reduction
Breast reduction corrects lax skin and decreases breast volume. Women with oversized breasts may suffer from back and neck problems. A reduction procedure provides women with a profile suitable for their frame and for their comfort. This surgery is performed under general anaesthesia. The exact technique applied is based on individual characteristics and the woman's preferences. During this surgery, fat, glandular tissue, and excess skin are removed from the breasts. The remaining breast tissue is then sculpted to a natural-looking, more proportionate dimension. The size and position of the nipple-areolar complex can also be adjusted at this time.
Congenital Breast Conditions
Some women may have an atypical breast appearance or asymmetrical breasts. We provide multiple solutions to enhance the aesthetics of the breast profile. Below are commonly encountered anatomical deviations.
Asymmetrical Breasts: While a certain degree of asymmetry is natural, some women find that one of their breasts is strikingly different from the other. Various methods can correct this, including breast augmentation with implants or fat transfer to the smaller breast. Conversely, the larger breast can be adjusted with a reduction and mastopexy or a combination of both, if necessary.
Tubular Shaped Breasts: This condition of irregular dimensions is when one or both breasts are conical in shape with large "puffy" nipples. Dr Dalia corrects this by re-shaping breast tissue and reducing the size of the nipple. Changes can be made depending on the patient's ideal aesthetic, with or without additional breast enlargement.
Poland's Syndrome: This congenital condition means chest muscles are underdeveloped and can result in breast asymmetry. A breast augmentation or expander followed by fat transfer can restore a symmetrical aesthetic.
Nipple Deformities: A surgical correction to this condition changes the size or position of the nipples.
Gynaecomastia
Gynaecomastia is the enlargement of the breast tissue in men. Known as "man boobs", the unflattering aesthetic is caused by a hormonal imbalance. First, the surgical correction removes excess skin using the Webster incision. This technique encircles the areola and extends along the circumference of the bottom half of the areola's pigmented area, to allow for minimal scarring. Then, Dr Dalia will remove the enlarged glandular tissue and liposuction away excess fat. Tumescent fluid is injected to facilitate the excess tissue removal.
Natural Breast Augmentation
Natural Breast Augmentation, or a fat transfer to the breast, is a surgical procedure that enhances the volume of the breast by using fat from your body. Dr Dalia will identify donor areas you want to slim down, typically, the abdomen, thighs, flanks, and hips. A small incision is made in the donor areas so a small cannula can be inserted. This helps break up and remove the fat from the body. [3] The fat is purified and reinjected into the breasts to enhance volume.
Benefits
Regardless of the reason, a surgical breast procedure creates a personalized aesthetic for the bust line. These helpful enhancements provide subtle or striking improvements that are personalized to suit a woman's needs. You can also expect the following advantages:
More proportionate bust size
Better symmetry between the breasts
Rebuilds self-confidence
Increase in clothing choices
Produces long-lasting results
Candidates
Healthy patients interested in changing their chest profile may be eligible for a surgical breast procedure. These techniques have helped many patients restore and enhance their contours and self-confidence. If you're considering a breast surgery procedure, you should check these criteria before seeking treatment. They include:
Being free of serious health complications
Being at a healthy weight
Being a nonsmoker or being willing to quit leading up to surgery and throughout the recovery process
Fully understanding what a surgical procedure can do
Willingness to carefully follow pre-surgery and aftercare instructions
Dr Dalia will explain eligibility information during your consultation. To learn more about the process and how you can benefit, contact our office to schedule an appointment. Or call +49 (0) 40 46 091 076.
Personal Consultation
Personal consultations are open and compassionate conversations about your aesthetic aspirations. After taking your medical history into account, we'll examine your breasts and skin laxity. Doing so helps Dr Tobbia develop a personalized plan. As she does so, please feel free to ask questions. After creating an approach, we will explain the details of your breast procedure and how it will change your bust size. Dr Dalia will provide you with a set of individualised instructions before you go.
Schedule an appointment with Dr Dalia in the heart of Hamburg. You can also contact us by calling +49 (0) 40 46 091 076.
Your personalized list of instructions will tell you how to prepare for your surgery. Please remember to follow them carefully to ensure a seamless process. Patients should complete the following items weeks before surgery:
Preparation
Pause smoking (including e-cigarettes) and alcohol before surgery and during recovery. Nicotine can cause complications with your healing.
Stop the usage of certain prescription drugs. Give our office a list of your current medications.
Select someone you know and trust to drive and or accompany you home. You still may be under the effects of anaesthesia, and will be unable to operate a vehicle.
Go to the pharmacy and pick up prescriptions prior to your procedure.
Request 1-2 weeks off from work.
Recovery
Your recovery will depend on the specific breast surgery chosen and the extent of your condition. However, all surgeries require you to rest for about a week. After you leave our care, take the prescribed medications to offset feelings of moderate discomfort, discolouration, swelling, and bruising. Some patients may be given a compression garment or bra to safeguard their contours. Please remember to wear this until directed otherwise by Dr Dalia. Within two weeks, these steps will help you to move better. It is okay to resume light activities during this time, but wait six weeks to resume strenuous activity.
Results
As your healing progresses, you will notice a difference in the size, projection, and feel of your breasts. Full results will show themselves once all proper aftercare instructions are followed. Stay positive! Swelling, bruising, and scarring will improve with time. Once that happens, you can enjoy the enhanced contours for years to come.
Cost
The final cost of a surgical procedure will depend on several factors, including the specific surgery used to achieve your new aesthetic. The details of the actual price will be discussed at your initial consultation.
FAQ
Do breast surgery procedures hurt?
Breast surgery patients will experience varying degrees of discomfort. It is a normal part of the recovery process. Patients can take the prescribed medications to alleviate pain. 
When will I recover from breast surgery?
Healing depends on a few factors, including the type of procedure chosen. Patients can expect to return to most activities after six weeks. 
References
Coombs, D. M., Grover, R., Prassinos, A., & Gurunluoglu, R. (2019). Breast augmentation surgery: Clinical considerations. Cleveland Clinic Journal of Medicine, 86(2), 111–122. https://doi.org/10.3949/ccjm.86a.18017
Ramanadham, S. R., & Rose Johnson, A. (2020). Breast Lift with and without Implant: A Synopsis and Primer for the Plastic Surgeon. Plastic and Reconstructive Surgery. Global Open, 8(10), e3057. https://doi.org/10.1097/GOX.0000000000003057
Spear, S. L., Coles, C. N., Leung, B. K., Gitlin, M., Parekh, M., & Macarios, D. (2016). The Safety, Effectiveness, and Efficiency of Autologous Fat Grafting in Breast Surgery. Plastic and Reconstructive Surgery – Global Open, 4(8), e827. https://doi.org/10.1097/gox.0000000000000842