Breast
Offered at our convenient location in Hamburg
The perfect décolleté is something that every woman desires. Ideal breast proportions can enhance your natural curves and give your figure a more feminine look. However, nature is sometimes less than generous with regard to the ideal breast size.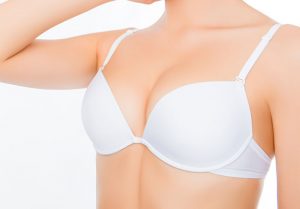 This and other factors (such as aging, weight loss, asymmetry, pregnancy, and breastfeeding) can also have a significant impact on breast appearance over the years. Our goal is to safely enhance your natural beauty using customized surgical procedures tailored to your individual needs. Our patients can rest assured that our medical practice utilizes the most current medical knowledge, and that we operate according to the highest medical standards.
Breast surgery in Hamburg
Breast Augmentation
Our aim is to give nature a helping hand by creating fuller, more shapely breasts that look natural and are in balance with the overall body shape. We offer two methods of breast augmentation – implants or autologous fat transfer.
Implants
When you decide to undergo breast implant surgery, there are several decisions to make. Dr. Dalia Tobbia will help you choose the size and shape of your implants according to your body and your desired results. You may opt for anatomic implants if you're looking for a more natural look, or round implants for more upper pole fullness. Implant placement (over or under the pectoral muscle), as well as incision placement (periareolar, inframammary, or axillary) will be explained in detail. It may seem overwhelming, but Dr. Dalia Tobbia's goal is to spend ample time with you, answering your questions and ensuring that you are relaxed and confident in your decisions.
Autologous Fat Transfer
This method of augmentation is completely natural, as it utilizes fat harvested from your own body and injected into your breasts. Also known as fat grafting, this process involves taking unwanted fat from another area of your body, it is washed and filtered before it is injected into the specific areas of your breasts where you want an increase in volume. This technique offers many advantages, including minimal scarring, more precise correction of asymmetry, and a natural feel and appearance.
Breast Reduction
Breast reduction is a procedure that decreases the volume of large breasts while also providing a bit of a lift. Large, heavy breasts can cause a myriad of problems for women, from back pain to skin issues in the breast folds, as well as interfere with the ability to perform daily activities.
During a breast reduction, Dr. Dalia Tobbia will remove excess tissue and fat from the breasts, reshaping them and adjusting the nipples so that they are in the correct position on your breasts. The results are smaller, more symmetrical breasts that are in better proportion to your natural body contour.
Breast Lift
Over the years, a woman's breasts are affected by several things – aging, loss of elasticity, pregnancy, breastfeeding and weight loss can cause breasts to lose their youthful shape and appearance. However, a breast lift (or mastopexy) can lift and tighten the breasts, restoring shape and improving firmness. The technique Dr. Dalia Tobbia will use for your surgery will depend on the degree of ptosis (sagging) in your breasts, as well as your specific goals and desired outcomes. During the surgery, excess skin is removed and the breasts are reshaped and positioned higher, while the nipple size and position are adjusted to be more symmetrical and often smaller. There will be some visible scarring, but with time and proper care, these will fade.
Enlarged Male Breasts
Gynaecomastia is an enlargement of the male breast due to overgrowth of glandular and/or fatty tissue that can occur in boys or men. This condition is commonly caused by an imbalance of the hormones estrogen and testosterone, and can also be attributed to supplements taken by bodybuilders. It can affect either one or both breasts, sometimes causing them to look uneven. Gynaecomastia can cause much embarrassment for male patients, and often results in poor self-esteem and a negative body image.
The technique applied for correction of gynaecomastia depends on the patient's anatomy and their desired results, but most importantly, on the extent of the enlargement in the breast tissue and quality of their skin. Modest enlargement can be addressed using liposuction on its own, while more significant enlargement may require excision of excess tissue, skin, or breast glands. Whatever the case, Dr. Dalia Tobbia will do her best to make sure any scarring is minimal and inconspicuous.
Congenital Breast Conditions
Breasts are a visible symbol of femininity in most cultures, and so any sort of deformity or asymmetry can be psychologically debilitating to women. Deformities commonly occur during the developmental growth phase of the female breast, though they may also be a result of injury or surgery. These issues may affect one or both breasts, and leave a woman looking misshapen or asymmetrical, resulting in a loss of confidence that can inhibit regular social interactions.
At Plastische Chirurgie am Klosterstern, we have extensive experience in dealing with commonly encountered breast deformities. Some of the conditions we treat include:
Breast Asymmetry
Tubular Breasts
Poland's Syndrome
Nipple Deformities
Accurate diagnosis, counseling, and timely treatment are crucial components in helping to alleviate a woman's feeling of deformity and optimize the aesthetic outcomes, so we utilize the most up-to-date surgical methods to ensure that our patients obtain an aesthetically pleasing natural breast shape.