Body
Offered at our convenient location in Hamburg
After weight loss, pregnancy or effects of aging patients may suffer from substantial change to their body shape due to excess skin laxity, localized fat accumulation in undesired body parts or a combination of both.
Body Contouring in Hamburg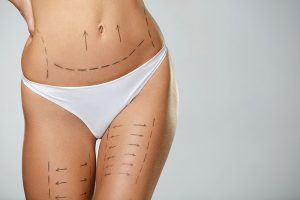 Body contouring plastic surgery is designed to reshape, tighten and rejuvenate almost any area of the body, by removing excess skin and fat to create a newer, sleeker contour. Typical areas addressed include the thighs, knees, upper arms, neck, breasts, buttocks, abdomen and hips. Frequently liposuction is needed to complement the contour reshaping. For patients requiring correction of multiple body regions, several staged operations may be needed in order to achieve the desired results.
Dr. Dalia Tobbia Satter has extensive experience with body contouring procedures. During her time working at the University Medical Center Göttingen she worked in collaboration with the obesity center and helped countless patients to achieve the perfect figure.
When consulting patients for body lifting procedures, the patients' age, body weight and existing medical conditions are all taken into consideration.