Back Lift
Offered at our convenient location in Hamburg
We all tend to gain weight differently. This means that fat buildup can happen in different areas of our bodies depending on our unique genetic makeup. For some patients even modest weight gain can cause fat to build up in the back. This is particularly true in women.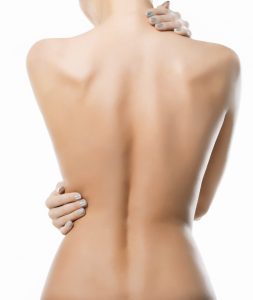 In the upper back this manifests as unsightly folds underneath the bra straps alternatively fat buildup can occur lower in the back and can bulge around the waist- line. Weight-loss can help to diminish this fat build up within these back folds however irregular residual unwanted pockets of fat can persist leaving an irregular contour and in some cases additional loose skin folds.
The concept of a back lift procedure is to reshape, and tighten the back by a variety of techniques adapted to each patient involving a combination of excess skin removal and liposuction to create a sleek back contour. For patients who have only a modest amount of fat buildup and good skin quality liposuction alone to targeted areas may be enough to achieve the desired results.
Consultation
Before you consider undergoing any surgical procedure, a physical examination and consultation will take place with our surgical expert. Because each patient is unique, both physically and with regards to aesthetic desires an individually tailored treatment plan is formulated based on detailed discussions of the most up to date surgical options available. Photographs are taken and diagrams used to explain the procedure in a step-by-step manner including limitations and possible risks.
The main goal is to provide you with realistic expectations depending on body weight and skin elasticity. Surgery is aimed at trimming away and tightening of loose and sagging skin, removing of excess fat to give a sleek firm appearing back.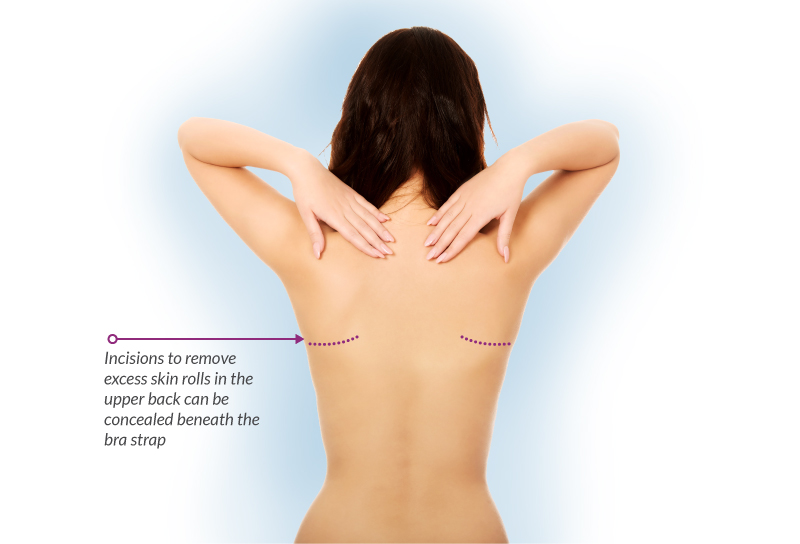 Surgical Method
We employ the most up to date concepts in our surgical techniques. This surgery is indicated in patients who have one or more areas of sagging skin lacking in tone with asymmetrically localized fat. Contouring procedures are performed under general anesthesia. The technique applied is based on individual patient parameters and anatomical location. Accurate preoperative planning is made to suite each individual patient targeting the area that needs to be addressed. Incisions are discreetly made so that they can be concealed beneath the bra straps. Through these incisions sagging skin folds are removed and liposuction performed. Meticulous attention to detail is applied to ensure even slick contours and the best possible aesthetic result.
Post Operative Care
Usually 1-2 drains are placed to remove the excess fluid output for a period of 1-3 days. The wounds are covered with non-stick dressings and wearing of a compression garment is advised to provide support for 4-6 weeks. Most sutures used are absorbable and do not require removal. Mobilization after the surgery is possible and even encouraged. However strenuous physical activities and heavy lifting should be avoided for 4-6 weeks.
This procedure can accomplish outstanding results yielding an even and aesthetically appealing back.