Breast Augmentation with Lift (Mastopexy)
Offered at our convenient location in Hamburg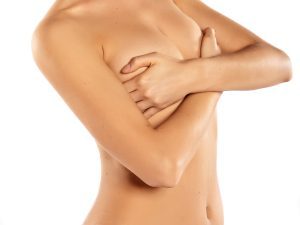 Have you noticed your breasts becoming less perky as you age? With time, our skin loses elasticity and becomes droopy. Gravity and many other factors contribute to our skin becoming looser. These factors can negatively affect breasts, causing them to become flat and lose their once youthful perkiness.
At Klosterstern Plastic Surgery, Dr. Dalia Tobbia provides a woman's perspective when treating breasts. With her eye for detail and advanced techniques, she maintains your feminine frame while delivering transformative results. With years of experience, Dr. Dalia Tobbia is committed to providing you with a personalized procedure that will leave you naturally enhanced and confident.
About Breast Augmentation with Mastopexy
A breast augmentation combined with mastopexy provides a comprehensive change in your appearance. This procedure varies in techniques and may include implants or a fat transfer to add volume to the breasts and also an uplift procedure to address breast droop. Overall, this procedure improves the shape, volume and position of the breasts to restore your youthful appearance.
Benefits
There are many advantages to receiving a breast augmentation and lift procedure together, just a few of these benefits include:
A comprehensive improvement to your appearance
Perkier breasts
Improved nipple and breast position
Fuller breasts
Improved comfort when shopping for and wearing bras
Boosted confidence
If you are self-conscious of the repercussions time has had on your breasts, don't hesitate to call our offices today to learn how to naturally improve your chest. We want you to be proud of your body. A breast augmentation and lift treatment will provide the above benefits and more. Trust Dr. Dalia Tobbia to delicately improve your already beautiful body!
Candidates
Breast augmentation combined with lift procedures are often performed on women in their thirties to sixties but we encourage all patients who are interested in the treatment to schedule a consultation with Dr. Dalia Tobbia. An ideal candidate for this procedure is someone who has:
Drooping breasts that may cause the chest to appear flat
Asymmetrical breasts
Insecurity about breast size
Elongated areolas
Moderate skin elasticity
Good health
Although this procedure is performed in one area of your body, it will transform your whole appearance and make you look younger. If you are interested in our breast augmentation and lift procedure, schedule your personal consultation today!
Dr. Dalia Tobbia: Premier Breast Augmentation and mastopexy Specialist
In your personal consultation with Dr. Dalia Tobbia, you will get the opportunity to discuss your personal cosmetic goals and what you hope to achieve with a breast augmentation and lift. Dr. Dalia Tobbia will walk you through the procedure, its potential risks, and its long-term benefits. She will inquire about your general health, past procedures, allergies, and current medications.
During your consultation, you and Dr. Dalia Tobbia will discuss the best option of breast augmentation for your body, which may include implants or an autologous fat transfer.
A physical will be performed of your chest where Dr. Dalia Tobbia will test your skin elasticity and take measurements and photographs to help her scientifically pinpoint incision sites. Dr. Dalia Tobbia may suggest alternative solutions that will better achieve your goals.
Implants
We offer our patients the highest quality silicone implants. Silicone implants provide a more natural breast tissue feel. You will need to choose between an anatomic or round shape. Dr. Dalia Tobbia and you will discuss the size and placement that will work best with your body and provide beautiful, natural results.
Autologous Fat Transfer
This technique combines liposuction with breast augmentation and lift treatment. Dr. Dalia Tobbia and you will decide on a donor area where excess fat is removed, which may include the thighs, abdomen, arms, love handles or buttocks. After the fat is removed through liposuction, it will be cleaned of impurities and relocated to the breasts. This procedure provides a natural feel and improves the skin quality of the breasts.
An autologous fat transfer is a safe, healthy procedure; because you are using your own body fat to enhance your chest, risks of an allergic reaction are unlikely because the fat comes from your own body.
The fat transfer process also allows you to re-contour your body in two areas. For instance, you can slim down your waist while improving the size of your bust!
Together, Dr. Dalia Tobbia and you will create a treatment plan that takes your health and lifestyle into consideration while achieving your ideal outcome.
Detailed instructions for how to prepare and achieve a healthy recovery will also be discussed during your consultation. We recommend our patients write down their questions and concerns and bring them to the consultation. We strive to educate our patients and help them leave feeling confident in their choice.
Preparation
You will want to pick-up all prescriptions before your appointment. Dr. Dalia Tobbia may require you to take medications before and soon after your procedure. To create a non-stressful environment, we recommend you have all the necessary medications a few days before your scheduled treatment.
You will not be able to drive yourself home after the procedure. Ask a friend to drive you home and help you get adjusted. This will help you rest and relax during the initial healing period. While you are on pain medication you will not be able to drive. Be sure to have a friend standing by to help you run errands or to help other family members that live with you.
Create a comfy space for yourself at home that is complete with extra pillows, entertainment and necessities, like medications and food, all within arms reach. We want you to relax and get plenty of sleep following your procedure.
The night before the procedure you may be asked to stop eating at a certain time or take medications. Be sure to follow these instructions carefully. We also encourage you to get a good night's rest. This will help your body through the procedure and healing process.
Breast Augmentation with Mastopexy
At Klosterstern Plastic Surgery, we approach each treatment plan with a personalized touch.
The surgical team will greet you when you arrive and prepare the predetermined treatment area. General anesthesia will be administered intravenously to help minimize discomfort and provide a safe experience for you. Dr. Dalia Tobbia will first make incisions to lift and reposition the breasts. Four commonly-performed breast lift procedures include a crescent lift, periareolar lift, vertical lift, and inverted T lift. Dr. Dalia Tobbia and you will recommend the technique that works best with your anatomical qualities and achieves the best outcome.
Your procedure may reflect one of these lift procedures or a combination. This is just one of the ways we provide quality care and treatment for our patients.
Surgical Techniques
Crescent Lift
A crescent lift is performed to reduce sagging and requires a small incision to be made along the top half of the areola. Through this incision, excess fat and tissue are removed to help improve the droopiness of the nipples only.
Periareolar Lift
An incision is made along the edge of the areola enabling excess droopy skin to be reduced to achieve a lifted breast. If the areolas are elongated, this procedure is often used to correct and reposition them. You can enjoy lifted, natural-appearing breasts and perkier nipples from this treatment.
Vertical Lift
This procedure helps to correct sagginess and extensive repositioning. Two incisions are made with this surgery, one around the edge of the areola and the other from the edge of the areola down to the breast fold. The breasts are able to be resculpted through the removal of excess skin, fat and breast tissue.
Inverted T Lift
This procedure is performed on breasts that are considerably droopy and uncomfortable. Three incisions are made. One along both breasts creases and the second from the edge of the areola to the breast crease. The third incision is made along the edge of the areola. A significant amount of breast tissue and skin may be removed during this process. Repositioning and reducing the areola will also provide you with a lifted, youthful chest. This procedure may be used as a comprehensive approach to breast reduction and lift to provide your ideal result.
Dr. Dalia Tobbia may then apply new incisions based on the type of breast augmentation you are receiving.
For implant-based procedures, incisions are made typically along the breast crease. Depending on the extent of work necessary, Dr. Dalia Tobbia may perform a combination of these incisions.
Once the incisions have been applied, Dr. Dalia Tobbia will insert your personalized silicone breast implant under the breast tissue to create a breast mound for the fatty, surface breast tissue to sit upon. This will enhance your natural breast tissue while also improving shape and volume.
Breast Augmentation with Autologous Fat Transfer
A fat transfer may be performed in either one or two steps. The first step of a fat transfer is to remove fat from your predetermined donor area with liposuction. Local anesthesia will be applied to your donor area allowing for the fat to be removed from a tiny incision. Dr. Dalia Tobbia will insert a cannula (a thin, hollow tube) attached to an aspirator (a suction device) into the incision. With gentle movements, the fat cells will loosen allowing for their removal. The collected fat will then be filtered of all unwanted elements and placed into multiple syringes. After your breasts have been surgically lifted, the excess fat will be precisely and scientifically injected into the breasts to create natural enhancement.
This procedure provides a comprehensive change to your body as it resculpts two areas and transforms multiple aspects of your figure.
When your breast lift and augmentation have been successfully and safely performed, Dr. Dalia Tobbia will close the incisions sites with sutures. Dissolvable sutures may be placed deep within the breasts to help reposition and adjust them. Drains may be placed just under the skin to help remove any excess fluids. Bandages and compression garments (an elastic bra) will be placed around your chest to help minimize swelling and help the breasts adjust to their new contours.
This procedure often takes one to two hours to perform.
Recovery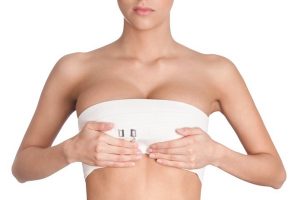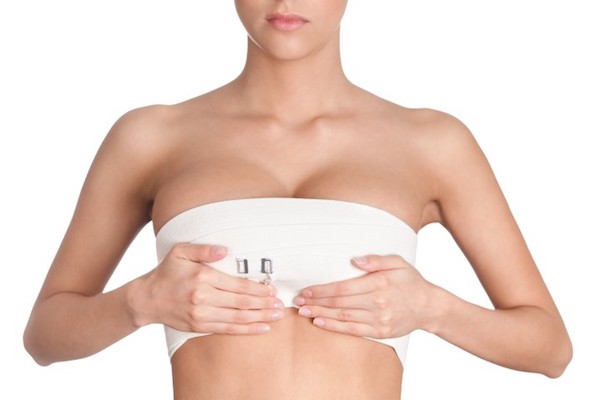 Patients commonly return home after their procedure to rest and begin their recovery. Swelling and bruising are to be expected for a few weeks. These symptoms will diminish with the help of compression garments and drains. Pain medication will also help decrease any discomfort.
You will need to adjust to sleeping on your back for a few weeks. Try to get lots of rest as it will help your body heal.
Patients often return to work after a week and limit their mobilization to simple, non-strenuous activities for the first two to six weeks. Dr. Dalia Tobbia and her surgical team will walk you through practices you can do to help your body recover quickly. For example, going on brief walks will improve your blood circulation and aid in your recovery process.
Follow-up appointments will help Dr. Dalia Tobbia monitor your recovery and make adjustments if necessary. These appointments are a great time to ask questions and voice any concerns.
Dr. Dalia Tobbia will clean incisions, remove sutures and drains as well as change bandages during these appointments. She will be able to inform you when to return to activities such as wearing regular bras, showering or exercising based on your healing progression.
Most importantly, follow the instructions laid out for you by Dr. Dalia Tobbia. If you are worried or curious about anything during your recovery period, reach out to our office so an expert staff member can help you.
Results
Women who undergo a breast augmentation and lift can enjoy firmer, more comfortable breasts. The results are long-lasting and will provide a youthful chest for years to come! To enjoy your results for as long as possible, be sure to maintain a healthy weight and lifestyle.
Cost of Breast Augmentation and Lift
At Klosterstern Plastic Surgery, we recognize that every woman has a unique, beautiful body. We personalize your treatment to improve your natural beauty. Our individualized treatments require individualized costs. If you would like to benefit from the transformative effects of breast augmentation and lift, schedule your consultation today at +49 (0) 40 46 091 076!