Upper Eyelid Surgery
Offered at our convenient location in Hamburg
Our eyes say a lot about our mood. Unfortunately, with time our eyes can develop a tired, sad, or angry expression that does not accurately represent how we truly feel. If you want to restore your happy, alert expression from your youth, you may be a good candidate for the revitalizing effects of an upper eyelid surgery.
An upper eyelid surgery can not only reduce the puffiness and sagging skin around your eye, it can also smooth surrounding wrinkles to give you a younger, more energized appearance.
Dr. Dalia Tobbia offers her patients a high-level of surgical expertise, delivered with an artful hand: the results of her upper eyelid rejuvenations are impressive but natural-looking, as patients leave Dr. Dalia Tobbia's office looking more youthful and refreshed. If you are interested in learning more about what upper eyelid surgery can do for your appearance and overall confidence, we invite you to call for a consultation today.
About Upper Eyelid Surgery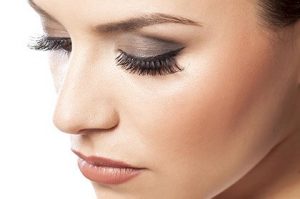 Regardless of the effort we put into staying young inside and out, stress, sun exposure, smoking, and a wide variety of other factors are going to strain and wear down our bodies. The toll of these factors is especially noticeable around our eyes: with age, we develop wrinkles, loose skin, excess fat, and weaker muscles. Our eyelids can develop a drooping, heavy or sleepy look. Thankfully, patients have the option of an upper eyelid surgery, which is a safe, straightforward procedure that can take years off their appearance!
Eyelid surgery is an excellent way for patients to restore their tired, aged appearance to better match the youthful energy they feel inside. An upper eyelid surgery will remove excess fat and loose skin from the upper eyelid with an easily-concealed incision. By removing the tissue that is weighing down the lids, but taking care to leave enough eyelid skin for comfortable eye function, Dr. Dalia Tobbia has restored countless patient's confidence by giving their eyes a revitalized appearance.
An upper eyelid surgery is a safe, comfortable, and convenient procedure and recovery. Patients are able to return to their usual activities within one week.
Why Have Upper Eyelid Surgery
Once we reach our 30s, with every decade that passes, the healthy structure of our skin and facial features begins to wear down. While every patient who comes to Dr. Dalia Tobbia will receive the cosmetic treatment that is best for their individual case, upper eyelid surgery may be a good option for you if you have:
Excess fat in your eyelids
Loose or heavy eyelid skin
Wrinkles that have developed around your eyes
Eyelid sagging that creates a permanently tired, sad, or angry appearance
Eyelid sagging that interferes with your vision
If you want to regain expressive use of your eyes, or simply to turn back the clock to how you used to look when you were younger, upper eyelid surgery can achieve the improvement you are looking for.
Candidates
An upper eye blepharoplasty is a good option for both men and women who want to address the wrinkles, sagging, or puffiness around their eyes, or who want to achieve a more alert, youthful look in general. Candidates can be anywhere from in their 30s to their 60s: the time of life that you receive your upper eyelid surgery will depend on both the condition of your lids and your goals for your appearance.
Ideal candidates are in overall good health, non-smokers, and maintain an active, balanced lifestyle.
Candidates who have a pre-existing condition such as glaucoma or diabetes, or another health condition which could interfere with their body's ability to heal, may not be candidates for an upper eye blepharoplasty. Dr. Dalia Tobbia will be happy to work with you to create a revitalizing treatment that will achieve your best, desired results, safely and effectively!
Consultation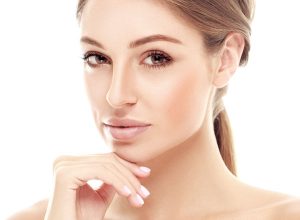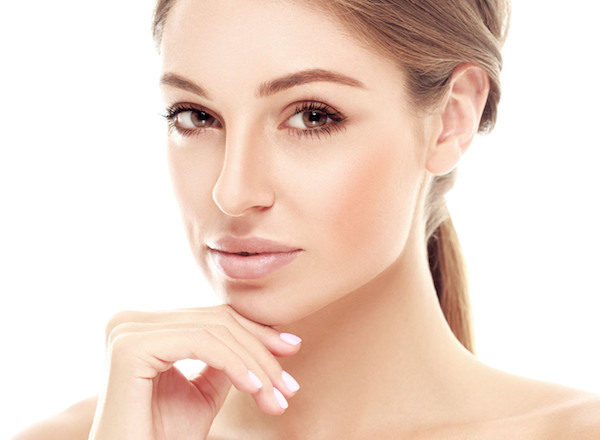 Dr. Dalia Tobbia takes care to tailor every procedure to the unique goals of her patients. Patients who are interested in rejuvenating their appearance with an upper eye blepharoplasty will receive a private consultation with Dr. Dalia Tobbia, during which she will examine your eyelids and discuss the specific goals for your appearance with you. After she assesses your medical history, medication use, and lifestyle habits, she will suggest a treatment plan that she feels will best achieve your desired results. If a particular patient is a better candidate for an alternative youth-restoring procedure, she will share her professional opinion during the consultation.
If you have questions about upper eyelid surgery, we invite you to call Dr. Dalia Tobbia's office today. We are more than happy to help schedule you for a consultation!
Alternative & Complementary Procedures
Upper eyelid surgery can be performed as a stand-alone rejuvenating procedure, or safely combined with a variety of cosmetic procedures to achieve your desired, youthful results.
Lower Eyelid Surgery
Patients may decide to undergo lower eyelid surgery, in addition to their upper eyelid blepharoplasty. This procedure is an effective way to remove excess tissue from under a patient's eyes and reduce the appearance of puffy under-eye bags.
Brow Lift
Brow Lifts are commonly performed during the same session as an upper eyelid surgery, in order to reduce wrinkles in the brow and improve a frowning or gloomy appearance. Pairing a brow lift with upper or lower blepharoplasty will give patient's faces a natural but noticeable "refresh."
Face Lift
Patients who have a more advanced degree of facial wrinkles may see their ideal, youth-restoring results with a face lift, which accomplishes the results of a brow lift, combined with the tightening of wrinkles that commonly form around the face and neck. An upper eyelid surgery completes the look by removing the loose skin and excess tissue that is creating a tired, weighed-down expression. Dr. Dalia Tobbia is capable of pairing these procedures so effectively but elegantly that you will look like you just returned home from a long, restful vacation: your more youthful appearance will look natural and right for you, not like you have had "work" done.
Fat Transfer
A fat transfer is an effective way to add volume to patient's cheeks or lower eyelids, which will fill in under-eye wrinkles and improve the healthy, youthful look of a patient's upper face. Due to the fact that the fat is the patient's own, the body accepts the transfer without risk of an allergic reaction. The results look and feel natural. The appearance achieved with a fat transfer can last for years!
Skin Resurfacing
Patients who are unhappy with the wrinkles, large pores, or age spots on their face can combine a skin resurfacing treatment with their upper eyelid surgery in order to achieve their ideal youth-restoring results. One effective method of skin resurfacing is a chemical peel, which will encourage your skin to shed its upper layers of aged, damaged skin to allow your newer, more hydrated skin to rise to the surface. Your newer skin will be fuller and healthier, which will fill in your wrinkles and give your skin a smoother texture with a better "glow."
Your Upper Eyelid Surgery
An upper eyelid surgery is a simple procedure, with impressive results. It is important to Dalia Dr. Dalia Tobbia that her patients feel 100% comfortable with both the steps of their procedure as well as their recovery process. Each patient will receive individualized instructions regarding their preparation and recovery from their upper eyelid surgery.
If patients have questions regarding their procedure, or another treatment they are considering, Dr. Dalia Tobbia and her staff are happy and ready to help.
Preparation
Due to the fact that patients will not be able to drive themselves home after their upper eyelid lift, patients are advised to schedule a friend or family member to drive them home after their procedure.
Patients may be asked to discontinue their use of certain medications in the weeks leading up to their upper eyelid surgery. It is also important to quit smoking at least three weeks before your procedure, as it can interfere with your body's ability to heal.
Surgical Technique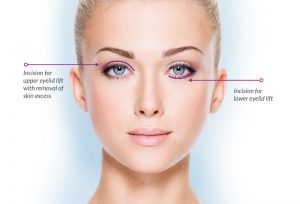 An upper eyelid surgery can be performed under either local or general anesthesia, and completed within 45 minutes to 2 hours, depending on patient preference and the extent of work that will be done.
During an upper eyelid surgery, an incision is made in the crease of the eyelid. This enables Dr. Dalia Tobbia to carefully remove the excess fat and tissue that is creating a drooping, heavy appearance of the upper eyelid. The remaining eyelid skin will look tighter and more lifted, but still sit comfortably on the patient's eyes. Sutures will be made in the crease of the eye, where any scarring, though rare, will be easily concealed.
If lower lid surgery will also be performed, an incision will be made along the lower lid. The excess fat and tissue beneath the eye will be removed, which will create a younger, healthier look where there used to be under-eye bags and wrinkles.
Our eyes are an integral part of how we engage with the world.
Like any cosmetic surgery, it is important you feel like you are receiving the most-appropriate, artful results for you. To learn more about why Dr. Dalia Tobbia's years of experience enable her to tailor every surgery safely and effectively to her individual patients, we invite you to call her office to schedule your consultation today.
Recovery
Patients will be able to return to most of their usual activities within a week of their upper eyelid surgery.
The recovery is generally comfortable: patients describe experiencing soreness rather than pain after their procedure. There will be bruising and swelling, but these conditions usually abate within seven to ten days, and in less than a week for some patients. Patients can relieve any discomfort, as well as reduce any swelling, by using a cold compress. Patients are also advised to keep their head raised when sleeping or resting. Dr. Dalia Tobbia can discuss approved pain relief medications, but many patients find their cold compress is adequate relief.
Patients should not drive themselves home after their upper eyelid surgery, but can return to driving once they feel their visual function is completely restored. Patients will be able to shower the same day as their procedure. In order to complete a comfortable recovery, patients may need to take up to a week off from work. If patients want to go outside during their recovery, it is advised that they wear sun glasses.
Instructions will be given to every patient regarding their recovery.
Patients will be able to wear contacts a week after their upper eyelid surgery. While it is important to maintain a degree of mobility, exercise should be avoided until the third week of recovery.
Of course, Dr. Dalia Tobbia and her staff will be happy and available to answer any questions that you may have after your upper eyelid surgery.
Results
Within a week, patients will begin to see the outcomes of their upper eyelid surgery. The incision, which is concealed in the crease of the eye, often heals without scarring. As bruising and swelling subside, patients will notice that their eyelids are lifted into a more youthful position, giving them an alert, healthier expression.
The results of an upper eyelid surgery last for years. Some patients decide to undergo a minor second blepharoplasty 10 or 15 years after their initial surgery, for the upkeep of their results.
Cost
The cost of a patient's upper eyelid surgery will depend on the degree of work they will require, as well as whether or not their treatment plan will include any complementary rejuvenating procedures. Once a patient completes their consultation with Dr. Dalia Tobbia, they will receive a pricing breakdown of their anticipated treatment.
If you would like to learn more about what an upper eyelid surgery can do to rejuvenate your appearance, we invite you to call Dr. Dalia Tobbia's office today to schedule your consultation.