Eyelid Lift
Offered at our convenient location in Hamburg
Let Blepharoplasty Rejuvenate Your Gaze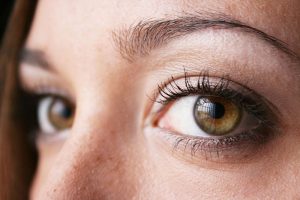 Blepharoplasty surgery is designed to address the signs of ageing around the eyes by removing excess skin and fat deposits. The passing years and prolonged sun exposure can cause the skin to sag and droop. When there is an abundance of sagging skin below the browline, it is called ptosis of the eyes. This condition can impact both our appearance and our self-esteem. Ptosis can make you appear tired or grumpy to others, even when you are happy and well-rested! But an eyelid lift will rejuvenate your gaze so that you will look as young and vibrant as you feel.
If you'd like to learn more about Blepharoplasty and a wealth of other related subjects, look around Dr Dalia's blog for an insightful glimpse into the latest developments in aesthetic medicine.
Before and After Photos
About Blepharoplasty
Factors such as over-exposure to the sun, stress, smoking and the natural ageing process can contribute to deep wrinkles, puffiness and drooping eyelids. Puffiness to the lower eyelids can make patients look sad or sleepy, while drooping upper eyelids give the impression of permanent fatigue.
Blepharoplasty is mostly performed for cosmetic reasons. However, it can be medically indicated in cases where the vision is restricted due to heavy, drooping upper eyelids.[1] This procedure may be performed alone or combined with other aesthetic facial procedures for optimal results.
A private consultation at Plastische Chirurgie am Klosterstern will reveal if an eyelid lift is the right look for you. Dr Dalia Tobbia is a skilled surgeon serving the cosmetic needs of the people of Hamburg, Germany. Contact us to learn more. Call us at +49 (0) 40 46 091 076.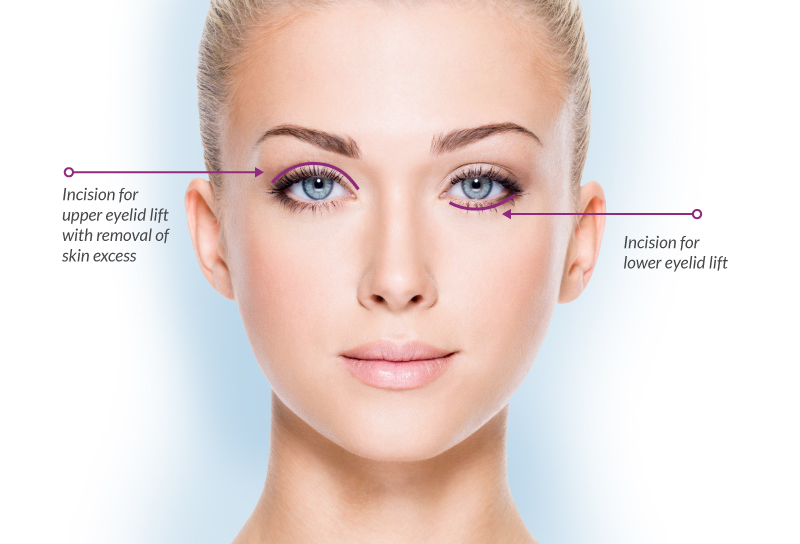 Benefits
If your eyes are not as bright and alert as you would like them to be, blepharoplasty can benefit your appearance. The surgery has just a subtle effect that does not change the way you look, but it can make a big impact on the way others see you. Many ageing professionals in the upper echelons of their respective industries seek an eyelid lift because they want to look as perceptive and quick-witted as they were earlier in their careers. An eyelid lift can also improve your vision by removing obstructions.
Advantages of an Eyelid Lift
A safe and simple procedure
A quick, painless recovery
Enhances the effectiveness of your nonverbal communication
Improves vision
Minimal scarring
Rejuvenates your look
Candidates
Qualified candidates for blepharoplasty are individuals who are afflicted by lax and sagging skin above the eyes, a condition otherwise known as ptosis. Prospective patients should be healthy enough to undergo minor surgery. Most people seeking an eyelid lift are 35 years old, or older.[2] Blepharoplasty can be combined with other facial rejuvenation procedures to achieve more comprehensive benefits.
At your private consultation, Dr Dalia and her team will qualify your candidacy for surgery and illuminate your aesthetic options.
Your Private Consultation in Hamburg
Dr Tobbia is a respected surgeon throughout the city of Hamburg and beyond. She has been recognized for excellence by numerous honours and awards throughout her illustrious career. If you are considering an eyelid lift or any other plastic surgery, consider a consultation with a leader in the field. Dr Dalia is a sought-after guest speaker who makes frequent scientific presentations. During your initial appointment, you will have the privilege of learning from a doctor who teaches other doctors.
Your comprehensive consultation will include a physical examination to assess your readiness for surgery. Dr Dalia and her team may take photos of the proposed surgical site. In the case of blepharoplasty, we will likely take many portraits and profile pictures to get a sense of the scope of your ptosis. If an eyelid lift is right for you, we will provide you with your personalized preparation instruction. Please follow these guidelines with fidelity. They are intended to assure a safe, smooth surgery.
Contact us to begin a process that will open your eyes to broad new vistas of possibilities. Call us at +49 (0) 40 46 091 076 to speak with one of our helpful representatives.
Preparation
We provide each patient with preparation instructions that are tailored to their individual needs. However, there are some general guidelines to follow before undergoing blepharoplasty or some similar surgery.
Prepare for an Eyelid Lift
Avoid any blood-thinning supplements and medications. These can include (but are not limited to) aspirin, ibuprofen, vitamin C and fish oil.
Abstain from smoking for several weeks before your procedure, or use this opportunity to quit altogether. Smoking can adversely affect your ability to heal and may prolong your recovery.
Find a trusted friend or family member who will agree to take you home after your surgery. Make sure this person is available to spend your first post-operative night with you to monitor for any sudden, unexpected complications.
Surgical Method
We employ the most up to date concepts in our surgical techniques. Blepharoplasty can be performed either under local or general anaesthesia. In cases where both the upper and lower eyelids are treated, or if other facial procedures are planned in addition, it may be more comfortable for the patient to receive general anaesthesia. The technique applied is based on a detailed analysis of the eyelids during the consultation. Accurate preoperative planning is made to suit each individual patient targeting the area that needs to be addressed. In the upper eyelid, the incision is made in the upper lid crease to remove herniated fat and excess skin. This will help to open the eyes wider and to give a refreshed appearance.[3]
In the lower eyelid, the incision is made along the lower eyelash line. Excess fat and skin is removed from the lower lid. This eliminates the bags under the eyes restoring the youthful contour of the lower eyelid and cheek. In addition, fat can be injected into the face to restore volume or to treat wrinkles as needed. Meticulous attention to detail is applied to ensure the best possible aesthetic result.
Upper Eyelid Surgery
An upper eyelid surgery is a specific type of blepharoplasty that focuses exclusively on remedying an accumulation of lax, sagging skin above the eyes—a condition commonly identified as ptosis. Dr Dalia initiates this delicate operation by making a set of precise, easily concealed incisions in the crease above each of the upper eyelids. She will remove a strategic amount of skin and tissue to ensure an attractive result that does not interfere with comfortable eye function.
Lower Eyelid Surgery
Lower eyelid surgery seeks to address the pockets of fat and skin that pool below the eyes that can give an individual a weary and burdened countenance. If this area has become sunken or depleted with age, Dr Dalia will plump and refresh the lower eyelids with facial fat transfer or other fillers.
Post Operative Care
The wounds are covered with small plasters. The area around the eyes will be swollen for a number of days after eyelid surgery. We recommend that you cool the area with ice packs to reduce any discomfort or swelling. Your stitches will be removed within five to seven days. You can expect to return to normal activities within one week. Patients are advised to avoid direct sun exposure or extreme heat for two to three weeks. You may gradually return to vigorous activities and outdoor sport in under a month.
Is My Recovery Painful?
Most patients report a relatively easy and painless recovery. Those who experience any mild soreness can manage it with over-the-counter ibuprofen. You can expect some swelling and tenderness in the days imminent after your eyelid lift. Most of these symptoms will quickly fade in less than a week.
Results
The ultimate outcome of your eyelid lift will be subtle but impactful. Blepharoplasty's results can supplement more involved rejuvenation surgeries, like a facelift. It may also be deployed on its own for patients who are no not looking for a dramatic transformation, but rather slight, yet sophisticated enhancement to the most expressive areas around the eyes. Others will notice your brighter, more captivated appearance. But you can simply tell them you got a good night's sleep!
Corresponding & Complementary Procedures
A brow lift is a cosmetic procedure that is commonly paired with blepharoplasty for a more complete rejuvenation of the upper portions of the face. While an eyelid lift targets sagging skin just below the brow, a brow lift eliminates laxity and erases wrinkles at the forehead. Prospective patients might consider getting a brow lift on its own or including it in a grander aesthetic strategy that they mapped out during their private consultation at Plastische Chirurgie am Klosterstern.
FAQ
Can eyelid surgery be performed more than once?
Cosmetic surgery does not stop the natural ageing process of the body. In principle, a blepharoplasty procedure can be performed more than once, especially many years after the first operation. However, this may not always be possible depending on the type and extent of the previous blepharoplasty, eye health and general condition of the patient.
References
Zoumalan, C. I., & Roostaeian, J. (2016). Simplifying Blepharoplasty. Plastic and Reconstructive Surgery, 137(1), 196e213e. https://doi.org/10.1097/prs.0000000000001906
Drolet, B. C., & Sullivan, P. K. (2014). Evidence-Based Medicine. Plastic and Reconstructive Surgery, 133(5), 1195–1205. https://doi.org/10.1097/prs.0000000000000087
Oestreicher, J., & Mehta, S. (2012). Complications of Blepharoplasty: Prevention and Management. Plastic Surgery International, 2012, 1–10. https://doi.org/10.1155/2012/252368