Breast Augmentation By Fat Transfer
Offered at our convenient location in Hamburg
Do you wish you had beautiful, full breasts?
Dr. Dalia Tobbia provides safe, artistic breast augmentation at her comfortable, cutting-edge practice in Hamburg.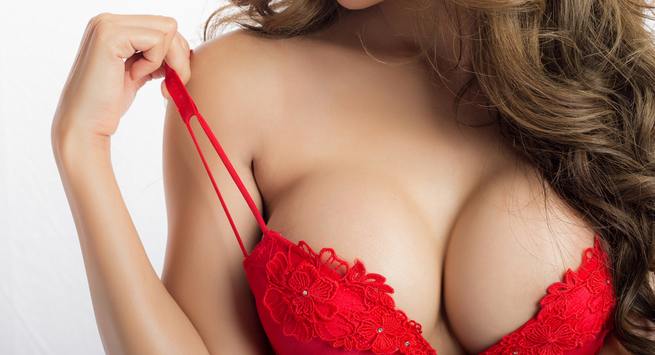 Every woman has a different reason for choosing breast augmentation or a breast enlargement – some may want to correct asymmetry, while others wish to restore volume lost due to age or breastfeeding. Many women simply wish to increase their breast size. A breast augmentation with fat transfer adds shape and volume to the breasts that look and feel natural. Results last for years! Whatever your goals, Klosterstern Plastic Surgery has the procedure that will meet your needs and offer you the results you've been looking for.
About Breast Augmentation with Fat Transfer
Autologous means that the donor and the recipient fat used in the procedure comes from the same person.
Dr. Dalia Tobbia achieves impressive breast augmentation results with autologous fat transfer to the breasts, or "fat grafting." With this method, it is possible to transfer stubborn fat from unwanted areas such as the waistline, stomach or thighs, directly to the breasts.
Fat grafting to the breasts is a two-stage procedure that is performed on the same day: initially, the fat is harvested from an area containing excess fat and processed using a closed system known as "Pure Graft" that preserves the fat under sterile conditions.
The concept here is that the transferred fat will receive blood supply from the local tissues and remain in place as natural fat tissue in the body.
After the fat is filtered and undesirable components are removed, it is gradually injected into the breasts at the desired locations in order to expand their volume, improve their shape or both. This is the most precise method to correct breast asymmetries, to improve or change the shape, and ultimately results in more natural appearing breasts without any of the typical scars associated with Breast enlargement. Because the fat is injected into the breasts there is only one tiny hole made in each breast to help inject the fat.
This technique takes longer than a traditional augmentation with breast implants because the fat must be harvested first in a delicate manner and put through the purification process. Injection of the fat is performed meticulously in small volumes and gradually sculpted to achieve a perfect result.
Before and After Photos
Candidates
While fat grafting is a more natural way to enhance your breasts, not everyone is a good candidate. Women who see the best results from augmentation with fat transfer are those who:
Are looking for an increase of one to two cup sizes. Fat transfer is not designed for large increases, which will need to be achieved with implants.
Have enough excess fat in the abdomen, thighs, hips, or other areas to provide the amount of fat necessary for the procedure. Without enough viable fat, it may be hard to achieve the desired increase in size.
Have good elasticity and tone in their skin. Fat transfer increases volume only – if you have sagging or drooping breasts, you may wish to combine a breast lift with your fat transfer to accomplish your desired outcomes.
A breast augmentation with fat transfer is available for adult women of all ages. If you are interested in how this procedure will transform the shape of your body and improve your quality of life, schedule your personal consultation today!
Consultation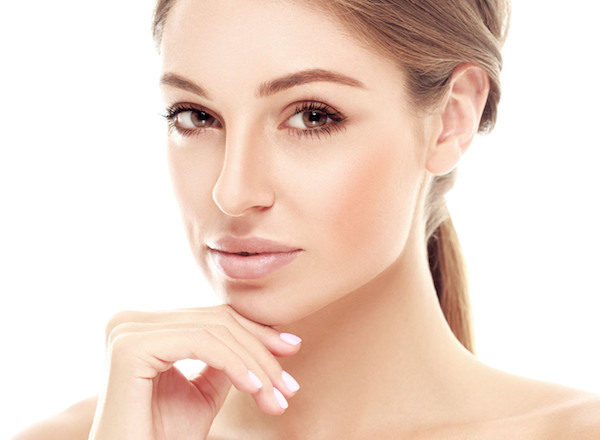 You will get the opportunity to meet with Dr. Dalia Tobbia before your surgery and discuss your aesthetic goals and desired outcomes. Together, you and Dr. Dalia Tobbia will develop a treatment plan that will best achieve your desired goals.
To better plan for the procedure, Dr. Dalia Tobbia will inquire about your general health, medication regimen, past procedures, and drug allergies. She will also examine your chest, take photos and measure the breasts and areolas to determine the injection site locations. With this information, Dr. Dalia Tobbia will also determine if a breast augmentation with fat transfer is the best way to achieve your desired changes. She may suggest alternative solutions that are more effective.
Dr. Dalia Tobbia and her qualified staff encourage patients to have questions in mind or bring a copy of their questions to the consultation. You are also encouraged to voice any concerns you have or feelings you are experiencing. Dr. Dalia Tobbia and her co-workers want patients to be ensured of the safety and benefits of their individually-tailored treatment plan and be confident in their choice.
Dr. Dalia Tobbia is a skilled and board-certified plastic surgeon. She takes great pride in her work and strives to give all her patients beautiful, long-lasting results.
Preparation
Prior to the breast augmentation treatment, patients will need to adjust their medication routine and stop smoking. They are encouraged to wear loose-fitting clothes to the procedure.
Patients will want to coordinate with a family member or friend to pick them up after the surgery.
Dr. Dalia Tobbia will prescribe medications to take in anticipation of the procedure. She will also discuss approved ways for patients to relieve any discomfort following the surgery.
Procedure
The areas that fat is regularly harvested from will include the buttocks, thighs, and abdomen.
The type of anesthesia a patient receives will depend on the volume of fat that needs to be harvested and and injected into the breast. Breast augmentation with fat transfer is usually performed with general anesthesia. The details of your procedure, such as the sites where fat will be collected, will be determined during your private consultation with Dr. Dalia Tobbia.
After you are comfortable and the areas targeted for liposuction have been marked, the fat is extracted using a delicate liposuction technique with fine cannulas (fine, thin tubes) that prevent damage to the fat cells. Once the fat is cleaned and processed, which includes the removal of blood, fluids, oil, and excess connective tissue, the pure fat is ready for injection. Dr. Dalia Tobbia will extract more fat than necessary for the procedure, as only the healthiest and most viable cells are injected into the breasts, increasing the likelihood of successful fat cell transfer and providing better results.
The pure fat cells are injected meticulously into the breast with blunt cannulas of various shapes and lengths, avoiding blood vessels to reduce bruising, and allowing Dr. Dalia Tobbia to sculpt and shape the breasts as desired.
When the process is completed, the transferred fat cells will incorporate themselves into the existing fat in the breasts, giving you a contoured breast with a natural look and feel.
Benefits
Breast enlargement by fat transfer has many advantages:
The harvested fat is a natural substance and comes from your own body, therefore the resultant breast augmentation is long-lasting with a very natural feel and appearance.
No foreign products or materials are introduced to the body causing the risk for an allergic reaction to be significantly lower than in other procedures.
This method results in very minimal scarring because the fat is both harvested and injected through tiny incisions.
It allows transfer of the fat to any part of the breasts where you desire an increase in volume or contour.
It is a very precise method to correct breast deformities, asymmetries or scarring.
The use of excess fat from other areas of your body allows sculpting and contouring as well as breast augmentation in one procedure. Your fat donor sites will become slimmer as well, improving the overall curve of a patient's figure.
Less risk of side effects such as capsular fibrosis and the need for future corrective surgery as is the risk when performing augmentation with silikon implants.
Breastfeeding is not affected by fat transfer, and there is no risk of loss of sensation to the nipples.
Routine cancer screening can be performed as usual following fat transfer to the breasts.
There are many benefits to getting a breast augmentation combined with a fat transfer. Dr. Dalia Tobbia's experienced techniques and advanced technology used at her state-of-the-art office provide a safe, artfully performed procedure. If you are interested in how Dr. Dalia Tobbia can help you achieve the appearance you desire, schedule your consultation today!
Recovery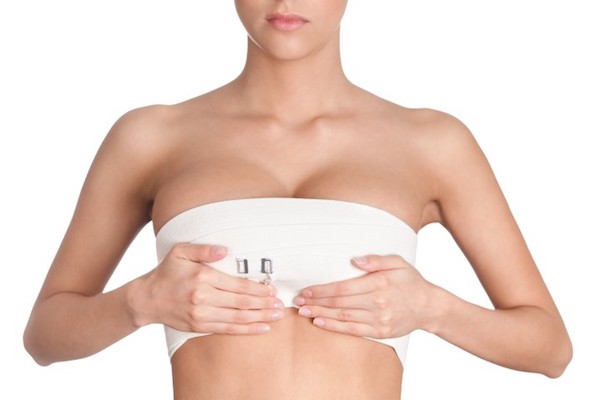 After your surgery, a special support bra must be worn at all times (except when showering) between four to six weeks. Normal activities after your surgery are possible, however, strenuous physical activities and heavy lifting should be avoided for at least four weeks. The breasts will be swollen immediately after the surgery, but the swelling will subside gradually within a few weeks to reveal the final, beautiful outcome. It may also be necessary to shape the areas that underwent liposuction with compression garments for four to six weeks.
Follow-up appointments will be necessary for Dr. Dalia Tobbia to monitor your recovery. During these appointments, she will remove stitches, bandages and clean any incision sites. Results of augmentation with fat transfer are long-lasting. Maintaining a healthy weight and diet will produce the best results. Your breasts will continue to age naturally, so you may experience some volume loss or change in the contour as time passes.
Results
The final result of the procedure will be an increased, natural bust.
The improvements caused by the procedure will be noticeable immediately and final results will be apparent after a few weeks. The area of your body that received liposuction will also be contoured and shaped to achieve your desired outcome. Patients receive a breast augmentation with fat transfer to benefit their frame and improve the natural contours of their body. With Dr. Dalia Tobbia as your surgeon, she will produce the results you desire in a safe, comfortable fashion.
Complementary Procedures
A breast lift is a common procedure to accompany a breast augmentation. This combination of procedure is often performed on patients who have experienced sun damage or aging, leaving the skin of their chest less elastic and droopy. A breast lift removes excess fat, tissue, and skin. The muscles and remaining skin are then reshaped to lift the breasts and return them to a younger composure. When combined with breast augmentation, this procedure results in a perkier, fuller chest.
Cost
If you are looking to augment your breasts in a natural way, breast enhancement with fat transfer may be the answer for you. Call Klosterstern Plastic Surgery today at +49 (0) 40 46 091 076 and schedule an appointment for a consultation with Dr. Dalia Tobbia.