Hand Rejuvenation
Offered at our convenient location in Hamburg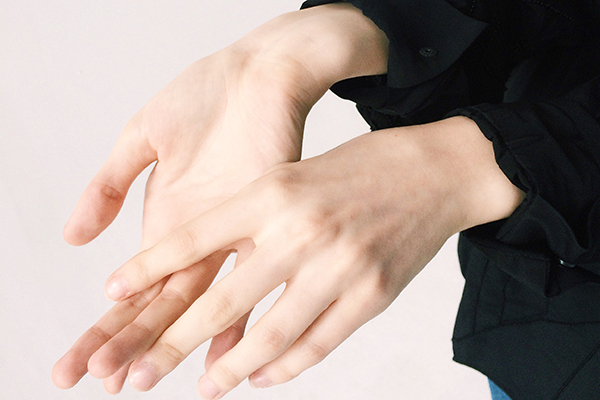 Hand Rejuvenation restores a youthful appearance to hands that have become wrinkled, prominent veins, discolored with sun spots, and deflated with age. Hands can be one of the first noticeable signs of a person's age. It's one of the body parts that we use the most, and as one that is typically unclothed, it's also one of the most visible.
Patients that take great care to project a youthful appearance by facial treatments and hair maintenance can feel like their efforts are in vain when their hands continue to broadcast their true age. Luckily, today's cosmetic treatments have been adapted for this area of the body, and requests for hand rejuvenation procedures are on the rise. (1) 
Dr. Dalia Tobbia understands this concern and is here to help. Her specialist practice at Klosterstern offers a variety of treatments that can erase wrinkles and volume loss to restore smooth, firm texture to the skin of the hands. Contact Dr. Dalia Tobbia's office at +49 (0) 40 46 091 076 to make an appointment today, and restore your hands and confidence.
About
As we age, both the surface and underlying structures of the skin begin to atrophy. The same process that causes a sagging neckline or lines and wrinkles in the face also occurs in the hands. Signs of age in the hand typically manifest in the intermetacarpal area, or the part of the back of the hand between the knuckles and the wrist. Fat and collagen underneath the skin breakdown over time, revealing bones, tendons, and bulging veins. Furthermore, our bodies produce less and less collagen and elastin as we age. The surface of the skin often doesn't fare much better, and sunspots, keratoses, rough patches can appear, as the skin itself begins to sag, or take on a crepey appearance. (2)
However, there are a number of effective treatments available that are minimally invasive and can repair the damage that time and the elements have inflicted. Injectable cosmetics and fat transfers can restore volume, and topical treatments can improve the appearance and texture of the skin's surface.
New Treatments For Old Hands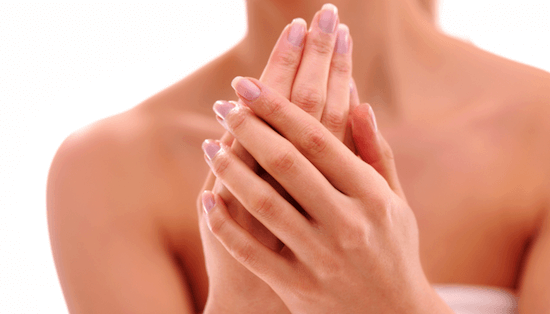 Hand rejuvenation lessens the appearance of the unsightly protrusion of bones, tendons, and veins. A chemical peel can eliminate blemishes and discoloration, and improve the texture of weathered skin. Think about everything that your hands do for you everyday. Why not give these important parts of your body the same care and respect that you give your face? 
Fat Transfer for Hands
Fat augmentation has long been utilized by cosmetic surgeons for volume restoration of the face and hands.(3)   It's also the technique behind natural breast augmentations and the famous Brazilian Butt Lift! Your own fat is a valuable rejuvenation tool. Because it is your own tissue, there's no risk of allergic reactions or rejection. Most of the fat that is transferred settles in and becomes a long-lasting natural part of your body, for satisfying and permanent results.
During a fat transfer to the hands, the doctor removes unwanted and non-essential fat from a donor site on your body. Usually, this is the belly, buttocks, thighs, or flanks. Then, these fat cells are cleaned and filtered to prepare them for strategic relocation to the hands.[3] 
Your own stores of fat offer healthy, vibrant cells that are useful additions to other parts of the body. Dr. Dalia Tobbia's trained eye and meticulous precision allows her to inject this vital material to sculpt smooth, plump contours in weathered hands. In a clinical study, 84% of patients were still satisfied with their fat graft hand rejuvenation treatment results a year later (4) 
Dermal Fillers for Hands
If the fat transfer process is not a viable option to treat your hands, dermal fillers are an optimal alternative. Just as they treat unwelcome wrinkles and lines in the face, dermal fillers can fill the gaps beneath the skin of your hands. By adding volume to the target area, these fillers cover veins and wrinkles from within.
It's important to know that dermal fillers also promote sustained health and a youthful appearance. Fillers like Juvéderm contain hyaluronic acid, which is a naturally occurring substance in the human body.[1] Besides being a buzzy new ingredient in facial creams, hyaluranic acid also triggers the body's ability to store moisture and increase its elastin and collagen production when introduced sub-dermally. This creates a long-lasting system of rejuvenation and replenishment.
Chemical Peels for Unsightly Spots
Hand rejuvenation doesn't just happen underneath the surface. Discolored spots or rough patches on the surface of your hands can also make your skin look older than you feel. A chemical peel resurfaces the skin. The layer of blemished and aged skin is gently removed with topical solution, revealing the fresh new skin beneath. This treatment can be used to minimize scars, wrinkles and skin discoloration on the hands, as well as on the face.
Candidates
If your hands look older than you feel, don't hide them in your pockets! A restorative procedure from Dr. Dalia Tobbia may be the perfect remedy. Eligible candidates for fat transfer are in good health, and have enough spare fat cells on the body that can be donated to add volume to the hands. If Dr. Dalia Tobbia determines that fat grafting is not a viable option for you, she may explore other choices for you, like dermal fillers. Chemical peels are not for everyone, but if you don't have a history of skin sensitivities and reactions they may be just the thing to give your hands fresh, glowing skin.
Advice and Treatment
During a consultation with Dr. Dalia Tobbia, she'll listen to your concerns and thoroughly examine your hands and potential donor sites for fat transfer. Based on your consultation, she'll devise an individualized treatment plan tailored to meet your needs. You can rest easy knowing that your hands are in good hands!
You can stay up to date with Dr. Dalia Tobbia by following her blog, where she shares the latest in plastic surgery news, her speaking engagements, and wonderful things to see and do in Hamburg.
Dr. Dalia Tobbia is a leader in this area. Besides her expertise in plastic, aesthetic and reconstructive surgery, her meticulous artistry has also led her to perfect microsurgery, super microsurgery and lymph surgery techniques. Dr. Dalia Tobbia has received numerous awards for her work and her patients' reviews speak for themselves. She pays great attention to detail and will work diligently to ensure that your hands complement your overall aesthetic and harmonize with the rest of your appearance. 
Preparation and Procedure
During your consultation, you will receive detailed instructions on how to prepare for hand rejuvenation, and what to expect afterwards. These instructions will be tailored to your anatomy, taking into consideration whether you are eligible for fat grafting or if you require dermal fillers to round out your contours.
Dermal fillers require little to no preparation, since they are minimally-invasive. In fact, you may be eligible for a dermal injection immediately following your consultation, and out the door in about an hour.
A fat transfer procedure is more involved. After the appropriate anesthesia, Dr. Dalia Tobbia creates a small incision in the donor site, and performs liposuction treatment to harvest healthy fat cells. Tumescent liquid is injected into the site to loosen lipids for removal. The fat cells are then gently vacuumed from the body through the incision using a thin tube called a cannula.
The removed fat travels through the cannula into a sterile container. The fat is then processed and purified, rendering it injectable. After preparing the surface of the skin for injections, Dr. Dalia Tobbia may use a variety of injection techniques to smooth and fill the contours on the surface of the hands. As the fat sets into place, you'll notice an immediate difference. Over time, your fat will adapt to its new home and form a stable blood supply, making it a long-lasting improvement that will make you look and feel like you're in full blossom!
Complementary Procedures
You probably were never grateful for extra body fat before! Besides revitalizing your hands, that pesky extra fat can also be put to use to achieve a more youthful face. Dr. Dalia Tobbia regularly performs autologous fat transfers to the face. This treatment can fill in wrinkles, replace lost volume, or correct irregularities in the contour of the face. This includes the lips! Fat can also be injected into the lips for a natural-looking plumping effect that just might earn you some kisses. If Dr. Dalia Tobbia determines that you have an adequate amount of fat, you may be able to treat both your hands and your face for vividly revitalized results. 
What Does Hand Rejuvenation Cost in Hamburg?
The price of a hand rejuvenation procedure will depend on the extent and methods performed during the procedure. Dr. Dalia Tobbia will explain the cost of each method to you. Since the process of an autologous fat transfer is unique to the patient, the price may also vary. Please call us at +49 (0) 40 46 091 076 to discuss your questions about hand rejuvenation. 
References